The Tuesday before Christmas was a tough one for Jim Scheer.
The now-former District 19 representative and speaker of the Nebraska Legislature spent time cleaning out his Lincoln office and officially ended his service at the state Capitol that day.
"The tough part was going into the clerk's office and handing in my keys," Scheer said. "Before that, I could always get back in, but once I handed the keys away, I couldn't get back in."
The Nebraska Legislature reconvenes for the 2021 session this week. It will be the first session without Scheer since he was elected in 2012.
While the time seemed to fly by, Scheer said he is OK with moving on: "I'm more than ready to be finished. I've thoroughly enjoyed all of my time and my experience. I've accomplished as much as I'm probably going to accomplish. It's now Mike and others' turn to do what they do," he said in reference to his successor, Mike Flood.
But this year not only marks Scheer's last in the Legislature, it also marks the first time in decades where the Norfolk native is not focusing on serving the public as an elected official in some capacity.
"I think I was first elected to the school board when I was 23 or 24. I had served as mayor of Norfolk, then went back on the school board, the state (education) board and then the Legislature," he said. "That's over 40 years. I'm done."
The impact of Scheer's work in public service is evident in a variety of ways — from the push he made for upgrades to school facilities and construction of the Norfolk Middle School while on the school board to the laws he has worked on and introduced as a legislator.
In past articles about him, Scheer has credited his mother's passion for public service as inspiration for his desire to serve. Scheer said he considers it an honor to serve the public, and he's grateful for the opportunity to serve the 19th District. He's also grateful for the chance he had to serve as speaker of the Legislature.
"It really was the highlight of my career — without question," he said of representing District 19.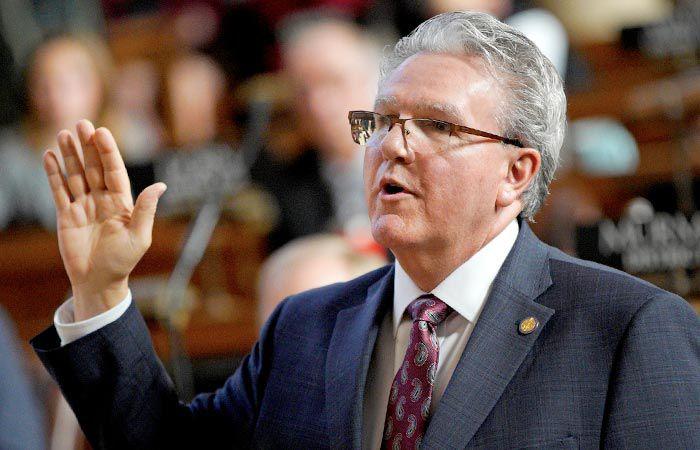 Looking back at his two terms, Scheer said there were multiple issues on which he worked that stood out as memorable.
One included working in 2017 to repeal an old law that banned public school teachers from wearing religious garb.
"I had a nun contact me. She had a valid teaching certificate with the State of Nebraska, but no one would allow her to substitute in a public institution because she wore a habit," Scheer said. "Evidently, you couldn't have religious paraphernalia and teach in a public school."
Although Scheer had served multiple terms on local and state boards of education, he had no idea such a law existed until it was brought to his attention, and considerable controversy existed in the successful effort to repeal the ban.
Another education-related bill Scheer said he was proud to work on made college entrance exams a requirement for all 11th graders. The bill ultimately provided access to college entrance exams that lower-income students might not have had access to in the past.
A workforce-related bill that stands out for Scheer is one he introduced early in his first term that prevented slag — a byproduct of steel manufacturing facilities — from being regulated as solid waste. The passage of the slag legislation protected a source of income for steel manufacturers, as well as protected a source of employment for residents of the state.
The effect of the COVID-19 pandemic on his final year in the Legislature certainly stands out as well.
"(The pandemic) went from something that was happening in China when we got back in January of last year. ... There wasn't an urgency of it happening here, but by February, it was now in the U.S., and we were like, 'Gosh, what would we do if something happened in Nebraska?' " Scheer said.
In March, Scheer suspended the legislative session for longer than it ever before. Although legislators gathered long enough to pass an emergency coronavirus appropriations bill at the end of March, they did not reconvene to finish the session for several months, and they did so only after following the advice of the Lancaster County Health Department.
"I followed every one of their requests," he said.
With his time at the Capitol now complete, Scheer said his service in the Legislature has given him a greater appreciation for the Unicameral and the willingness of Nebraska's legislators to push partisan politics aside to work together for the benefit of Nebraska residents.
"I'm going to be honest: I didn't appreciate it before I got in," Scheer said of the Unicameral. "You hear about (its uniqueness), but until you work it and live it, it really is different."
Scheer said he knows there is unfinished business for the Legislature; no bill will ever be perfect.
While he did not expand on what plans he has for life after the Legislature, he offered encouragement for others to get involved in public service — whether as an elected official or simply by becoming active in a church or civic organization.
"You don't have to run for school board. You don't have to run for city council. I know churches are begging for people to get involved on their trustee boards or any of those sort of things," Scheer said. "You don't have to be great. You just have to listen and make a decision."