Seven days ago, Justin Svoboda's No. 16 SportMod was pictured beneath the No. 22 car of Tim Swartz on the front straightaway at Off Road Speedway.
Now, just a week later, Svoboda is celebrating his first IMCA SportMods "A" feature win at the track — a big moment during what has been a difficult season.
"We've had a rough go of it so far. This is my ninth night of racing, and this is only the fifth race that I've finished," Svoboda said. "We've been fighting a lot of issues and have been getting wrecked by other cars. Last week I was the car that got its front end driven over on the front stretch."
But Svoboda's luck changed Saturday night at Off Road.
"We've also been trying to get this new car headed in the right direction, and it looks like it's starting to go that way," he said. "It went pretty good tonight — sort of a change from zero to hero. Hopefully it'll keep going that way, and we can click off some more wins."
On Saturday night, Svoboda made the most of an opportunity to start on the pole. Despite a complete restart at the beginning of the race and two cautions, the David City driver was able to lead every one of the 20 laps while as many as five different cars battled for a chance to contest for the lead.
"We took off right away and had a caution before we even got a lap done," Svoboda said. "I think we had about a straightaway lead before the next caution came out, but I managed to keep getting good restarts and kept running a solid line."
Ultimately, the competition behind Svoboda ended with Kyle Prauner, of Norfolk, having seven laps of opportunities to vie for the lead. But Svoboda was able to maintain the advantage and earn his first victory of the year. "I started screwing up on that cushion a little bit, and I was worried Kyle (Prauner) was going to get me, but I managed to hang on and keep her going," he said.
Meanwhile, Prauner finished second, with Cameron Meyer of Pierce taking third.
Norfolk driver Travis Coover not only earned his first IMCA Hobby Stocks win of the season at Off Road Speedway, but he also ended Jason Wilkinson's winning streak at three.
Coover took the lead four laps into the 15-lap feature and kept it while Wilkinson steadily made his way through the field to chase Coover the final four laps but was unable to make the pass.
Wilkinson, of Neligh, finished second, while O'Neill's Nate DeSive was third.
In the IMCA Stock Cars feature, Wakefield's Chad Bruns started on the outside of row one and, despite three cautions that kept the pack closely behind him, led all 18 laps for the feature win.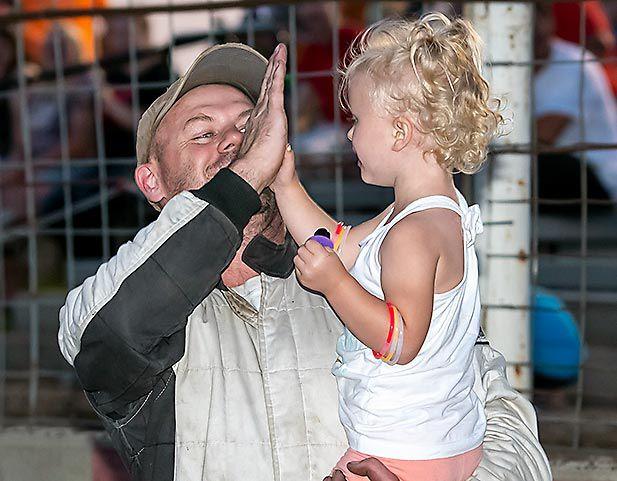 Neligh's Cameron Wilkinson made a long journey from near the back of the 18-car field to challenge Bruns during the final three laps but had to settle for second place while Norfolk's Eric Haase took third.
Jim Johnson of Plainview won a hard-fought IMCA Late Models "A" feature that saw the original 15-car field reduced to 11 by the end of the race.
Johnson got to the front by passing race leader Kaleb Jasperson of Pierce on the inside of turn two following the race's second caution and led the final 20 laps, establishing a significant lead as the field spread out behind him en route to the win.
Two drivers who came from deep in the starting lineup — Norfolk's Chase Osborne and York driver Cory Dumpert — finished in second and third place, respectively.
Racing will return to Off Road Speedway on Wednesday, July 1, when the track hosts the Don Weyrich Classic. There will be no races at the track on Saturday, July 4.