PIERCE — Clay White, a 13-year old from Pierce, could tell you almost anything you need to know about raising cattle.
His five years of involvement in Pierce County 4-H are certainly part of the reason why, but it's an opportunity White got this past January that took his passion for livestock to another level.
In the fall of 2019, White's mother, Jan, had learned of the Catch-a-Calf National Western Stock Show event in Denver every January.
Youths in 4-H between the ages of 12 and 19 from Nebraska, Kansas, Colorado and Wyoming may apply to "catch a calf" at the January event in Denver. Hundreds of 4-H students apply every year for the chance to go to Denver, but only 40 applications are selected.
Students selected for the Denver Coliseum event have the chance to bring a calf home if they're able to halter a calf in under two minutes. Clay managed to do so in about a minute and brought home a white calf and fittingly named it Denver.
After transporting their calves home, the students can call them their own for the next year before returning them to Denver as steers who will be sent to packers for market. The youths also get the opportunity to show their steers at the National Western Stock Show and exhibit the growth of their livestock.
"My mom always said we could do the Aksarben (catch-a-calf) in Omaha, but you don't get to take the calves home at that one," Clay said. "We drove a lot further to the National Western Stock Show, but it was really cool being able to take one home."
Jan said that because the Whites weren't invited to Denver until about a week before the show, she was doubtful Clay's application would be selected. But once they received the notification that they had the opportunity to go to Denver toward the end of December last year, it wasn't an opportunity they were about to pass up.
"We did a little bit of scrambling to get ready for it, but we were very excited," Jan said. "We knew it would be a really good experience for Clay."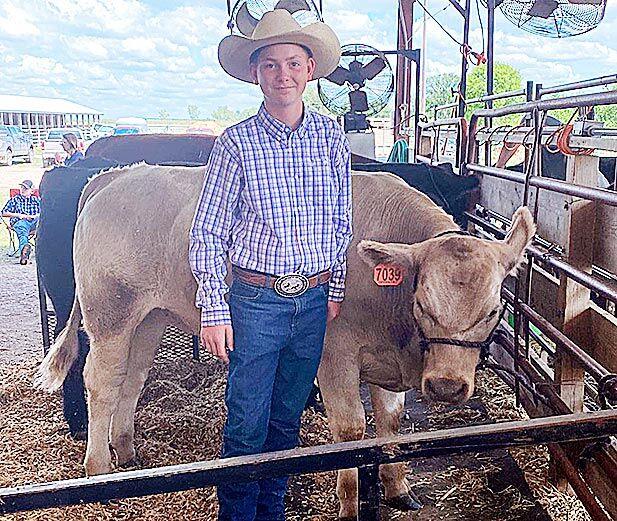 Not only does Clay provide Denver with everyday necessities, but the Catch-a-Calf program also requires that students write a one-page report every month and send that report to their designated sponsor. The report includes an update on community involvement and costs of food and travel for the steer, as well as a progress report on the steer's growth.
Clay also must prepare himself for a 15-minute interview and presentation to test his knowledge of his steer that will take place when he returns to Denver next January. The record-keeping and logging keep Clay busy, Jan said, but have taught him more than he could have imagined.
"It's been a great learning experience for Clay, and that's a big part of why I thought that applying for this would be a good idea," Jan said.
At this year's fair, Clay is showing both rabbits and his steer, which he's now raised for nearly seven months. Clay participated in multiple showmanship events on Friday with Denver, and he also will show his steer at the Nebraska State Fair later this month.
"I've never gone to the state fair before, so I'm really excited about that," Clay said.
Livestock shows packed the Pierce County Fair on Friday, and the morning consisted of swine, lamb and goat shows, as well as companion animal and beef shows. More than a dozen youths each participated in the swine and lamb shows, which were judged by Scott Beckman of Elgin.
"I was quite impressed with how these kids did today, especially given the circumstances in this extraordinary world we're living in right now," Beckman said. "We know how hard these kids work to get their animals ready for fairs, and I'm happy they could come out today and show us the progress they've made."
Beckman first started judging at county fairs in 1978 and has helped operate a multitude of shows in Pierce off and on for several years. The most satisfying part of judging livestock shows, he said, is seeing the learning curve each of the kids experiences.
"The biggest thing is picking out a pig and finding time to work with them," he said. "There's a lot of work that goes into properly caring for livestock, and it's important for kids to set aside time to research their animals and know as much as they can about them. You can tell when kids spend a ton of time with their animals because those are usually the healthiest and best behaved."
The Pierce County Fair 4-H/FFA livestock shows continue Saturday with poultry, rabbit bucket calf and dairy shows, as well as a trail horse challenge and livestock judging contest Sunday.
The fair also has a carnival, demolition derby, mud volleyball tournament and more planned for the remainder of the weekend.