There was plenty of action on the track during the Don Weyrich Classic on Wednesday night at Off Road Speedway in an event held to honor Norfolk's longtime driver and member of the Nebraska Auto Racing Hall of Fame.
Most of the action, however, took place behind the winners of the four "A" features.
Three of those feature winners started in the front row and won handily — including Neligh's father-and-son combination of Jason (IMCA Hobby Stocks division) and Cameron Wilkinson (IMCA Stock Cars), and also Columbus driver Brian Osantowski (IMCA SportMods), while Cory Dumpert of York blew away the IMCA Late Models field by a margin of more than seven seconds.
But the second-place winners overcame multi-car battles and other challenges to earn their runner-up spots, especially Wyatt Lehman.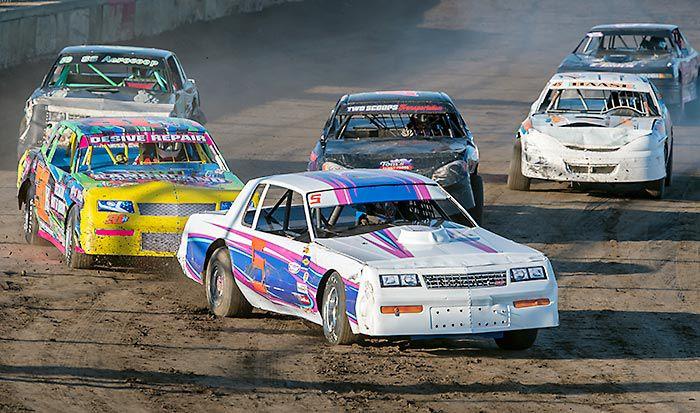 Lehman, a Norfolk driver, didn't qualify for the IMCA Hobby Stocks field in the heat races but managed one of the two "transfer" spots in the back of the starting lineup by qualifying with a second-place finish in the division's "B" feature.
Lehman then took advantage of a complete restart and a caution within the first three laps to move into the group of five cars in pursuit of race leader Jason Wilkinson before passing three of those cars on the outside coming out of turn four with eight laps left.
That move created a seven-lap competition between Lehman and Norfolk's Stephanie Reynolds, which Lehman, continuing to use the high side of the track, won after passing Reynolds with four laps remaining to finish second.
O'Neill's Nate Desive — who also began the race in the back of the field — then edged Reynolds at the finish line by no more than the width of his bumper to grab third place.
In the IMCA Stock Cars race, last week's winner, Chad Bruns of Norfolk, began the race aligned behind Cameron Wilkinson and chased the eventual winner all 18 laps to finish second. Platte Center's Austin Brauner came out on top of a three-car battle to take third place.
Similarly, the action behind Osantowski in the IMCA SportMods race involved several different cars — especially because of the race's five cautions.
Ultimately, Norfolk 's Colby Langenberg made his way to second place from the middle of the pack by aligning alongside, then overtaking and holding off third-place finisher James Roebuck of Genoa during the last of the "Delaware Double" restarts.
Dumpert's seven-plus second IMCA Late Models victory also saw various cars fighting it out for second place behind him, with Norfolk's Ben Sukup executing multiple "slide jobs" during the race's final four laps — sliding across the track from bottom to top, or vice-versa — to finish ahead of pole-sitter Eric Vanosdall of Hoskins, who took third place.
Off Road Speedway will not hold races on the Fourth of July but will return to action on Saturday, July 11.
LATE MODELS: (18 cars) (A feature) 1. Cory Dumpert, York; 2. Ben Sukup, Norfolk; 3. Eric Vanosdall, Hoskins; 4. Chase Osborne, Norfolk; 5. Zach Zentner, Cedar Rapids; 6. Robert Osborne, Norfolk; 7. Travis Birkley, Wakefield; 8. Alex Banks, Newman Grove; 9. Nelson Vollbrecht, Stanton; 10. Devin Johnson, Bloomfield; 11. Jim Johnson, Plainview; 12. Blake Andersen, Omaha; 13. Dean Wilkinson, Neligh; 14. Denton Duncan, Ravenna; 15. Brock Carlson, Winside; 16. Troy Behnke, Ewing; 17. Jon Haase, Plainview; 18. Matt Haase, Norfolk. (Lap leaders) Dumpert 20, Vanosdall 4, Robert Osborne 1. (Heat 1) 1. Vanosdall; 2. Vollbrecht. (Heat 2) 1. Dumpert; 2. Banks. (Heat 3) 1. Robert Osborne; Zentner.
IMCA SPORTMODS: (17 cars) (A feature) 1. Brian Osantowski, Columbus; 2. Colby Langenberg, Norfolk; 3. James Roebuck, Genoa; 4. Justin Svoboda, David City; 5. Wes Hochstein, Randolph; 6. Cole Haddix, Elgin; 7. Joey Haase, Norfolk; 8. Tim Swartz, Lincoln; 9. Jason King, Norfolk; 10. Tim Prichett Jr., Beemer; 11. Jeremy Gnat, Battle Creek; 12. Michael Kramer, Lyons; 13. Stephen Ives, Verdigre; 14. Logan Fernau, Creighton; 15. Kyle Prauner, Norfolk; 16. Doug Hilkemann, Wynot; 17. Tanner Cunningham, Tilden. (Lap leaders) Osantowski 20, (Heat 1) 1. Osantowski; 2. Haase. (Heat 2) 1. Roebuck; 2. Gnat. (Heat 3) 1. Prauner; 2. Haddix.
IMCA STOCK CARS: (19 cars) (A feature) 1. Cameron Wilkinson, Neligh; 2. Chad Bruns, Wakefield; 3. Austin Brauner, Platte Center; 4. Kyle Wilkinson, Neligh; 5. Jeremy Hoskinson, Norfolk; 6. Troy Bruns, Wayne; 7. Eric Haase, Norfolk; 8. Shawn Primrose, Norfolk; 9. Fred DeSive, O'Neill; 10. TeJay Mielke, Norfolk; 11. Kyle Krause, Duncan; 12. Neil Bruns, Norfolk; 13. Tanner Pettitt, Norfolk; 14. Ron Pettitt, Norfolk; 15. Dana Rasmussen, Rising City; 16. John Hadcock, Wayne; 17. Jaycee Bruns, Wayne; 18. Allen Zimmerman, Central City; 19. Hans Houfek, Emerson. (Lap leaders) Cameron Wilkinson 18. (Heat 1) 1. Primrose; 2. Krause. (Heat 2) 1. Chad Bruns; 2. Houfek. (Heat 3) 1. Cameron Wilkinson; 2. Mielke.
IMCA HOBBY STOCKS: (26 cars) (A feature) 1. Jason Wilkinson, Neligh; 2. Wyatt Lehman, Norfolk; 3. Nate DeSive, O'Neill; 4. Stephanie Reynolds, Norfolk; 5. Mark Arduser, Battle Creek; 6. Lance Mielke, Norfolk; 7. Anthony Nelson, Randolph; 8. Dustin Jackson, O'Neill; 9. Colby Kaspar, Columbus; 10. Shannon Pospisil, Norfolk; 11. Gage Koch, Norfolk; 12. Jim Kimmel, Norfolk; 13. Joe Rosberg, Norfolk; 14. Travis Cover, Neligh; 15. Nate Buck, Neligh; 16. Evan Harrod, Norfolk. (Lap leaders) Wilkinson 15. (B feature 1) 1. Koch; 2. Rosberg. (B feature 2) 1. Lehman; 2. Kimmel. (Heat 1) 1. Arduser; 2. DeSive. (Heat 2) 1. Wilkinson; 2. Kaspar. (Heat 3) 1. Reynolds; 2. Buck. (Heat 4) 1. Mielke; 2. Nelson.