LINCOLN — After the 2019 season ended, the Nebraska offense took a big hit on the outside as several wide receivers left the football program.
While Nebraska lost experience and familiar pass catchers, it also gave everyone in the wide receiver room, including Wyatt Liewer of O'Neill, an opportunity to make an impact for the Huskers.
The wide receiver earned his way onto the field in 2020 after hard work he put in as a special teamer and with his time on the scout team from the past couple of years.
"I gave it everything I could every single day in practice, just to keep moving up the depth chart to hopefully get some playing time this season," Liewer said. "It was a time to make strides in the depth chart, so I really took that to heart."
After graduating from O'Neill High School in 2018, Liewer entered Nebraska as a walk-on and utilized his redshirt during his first year. Liewer jumped onto the scene in 2018 as he was named the Nebraska Scout Team Offensive Player of the Year.
In 2019, Liewer didn't play a game for the Huskers but as he climbed the special teams depth charts and shined on the scout team, Liewer knew he had a chance to see playing time in the near future.
"He's athletic, physical and he kept making plays in our fall camp," said Matt Lubick, Nebraska's offensive coordinator and wide receivers coach. "He gradually worked himself into the rotation and made the most of it. He's consistent from a playmaking standpoint, and he plays with great effort."
At the end of the 2019 season, Nebraska lost experience and productivity from the receiving core. The Huskers lost Mike Williams, Kanawai Noa and Jaron Woodyard to graduation while JD Spielman transferred to Texas Christian University (TCU).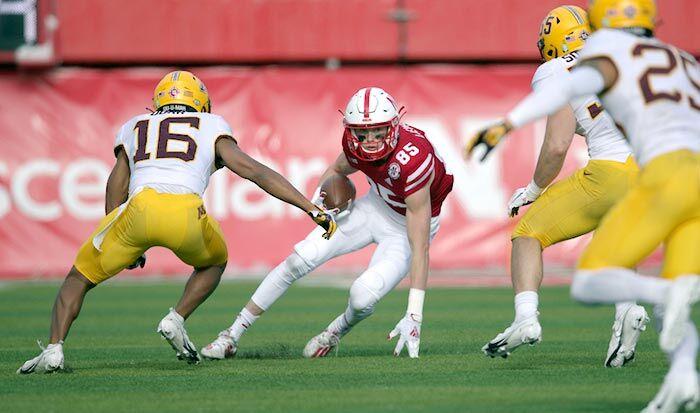 In 2019, the four combined to grab 74 passes for 1,261 yards and seven touchdowns.
"I knew we were pretty short in the receiver room and I thought I could contribute, but I wasn't really sure I'd play as much as I did. But, I'm glad that it happened," Liewer said.
With the well-known names departing from the program, Nebraska saw the wide receiver position open up for competition in 2020.
Nebraska brought back Wan'Dale Robinson, Levi Falck, Kade Warner and Liewer while welcoming fresh faces including Zavier Betts, Marcus Fleming and Alante Brown.
Other pass catchers at the tight end position who made an impact in 2020 included Jack Stoll, Austin Allen and Travis Vokolek.
"As a coach you want to play the best players. We coach them all the same and give them equal opportunities," Lubick said. "The guys that make the most out of their opportunities are the guys that play the most, regardless of what you've done in the past or if you are on scholarship or aren't on scholarship.
"We really encourage our walks-ons not only to be a part of the program and win football games but also give them a chance to play. Guys like Wyatt says a lot about our program, about how guys are going to get opportunities if they get the best of them."
Nebraska cycled in all of these pass catchers throughout the season, but Liewer was one of the few who saw the field every game.
"I knew with young guys coming in, it was really difficult to get the whole offense down with everything coaches wanted in a short amount of time. I knew I had that experience under my belt so I could be one step ahead of them," Liewer said. "I knew that if I got better on the depth chart and climbed my way up, then I'd be one step ahead."
Throughout the season Liewer saw the field but didn't get his hands on the ball. But on Dec. 5, when Nebraska traveled to West Lafayette, Indiana, to take on Purdue, the redshirt sophomore was able to get one step up ahead of everybody when he reached the end zone.
In the second quarter, Nebraska was leading Purdue 20-10 and the Huskers were driving to extend the lead. On Purdue's 10-yard line, quarterback Adrian Martinez took the snap from the shotgun and immediately fired a bubble screen pass to Liewer.
With Allen and Falck blocking in front, Liewer snagged the ball and strolled down the sideline for his first touchdown as a Nebraska Cornhusker.
"It was really surprising, and it was a lot easier than I thought it was going to be," Liewer said. "It was pretty awesome — I was really happy and hopefully I can get a few more."
After adding two more catches the next week against Minnesota, Liewer finished the 2020 season with three catches for 22 yards and the one touchdown coming against Purdue. Nebraska finished the crazy 2020 campaign with a 3-5 record and ended the season with wins in two of its final three games.
"We are always striving for daily improvement. All of the guys got better as the year went on, but we know we have a long ways to go. We still have got to improve and work hard. The big thing is getting better every day," Lubick said. "We had a little momentum at the end, but at the end of the day we all know we've got to be a better football team. We are all striving for a constant state of improvement and we've got to keep working."
Next year Liewer looks to take on more of a leadership role with another year of experience while he looks to continue to grow as an all-around wide receiver for Nebraska.
"I need to put on some weight, get stronger and continue to take strides in route running," Liewer said. "I wish there could be fans there next season, but it's still fun to play football."