Students entering Norfolk Public Schools buildings on Thursday and Friday will have a different roadmap to follow for the first days of school. 
Throughout the summer, district employees have been adapting NPS facilities to follow health and safety protocols as students return to classrooms this week for the first time since March.
Many aspects of each district building will be new to students as they navigate one of the most bizarre school years they'll most likely experience before graduating.
"A team of about 15 teachers and I met one morning for a couple of hours in order to brainstorm and think about potential changes we would have to make in order to be ready for August," said Chuck Hughes, middle school principal. "Our teachers care so much about our building and the students."
Some of the additions to the middle school and other buildings include strips of bright tape marking which side of the hallway students should walk on, and in which direction. Hughes said it would be easy to transition into a "one-way" direction hallway if needed.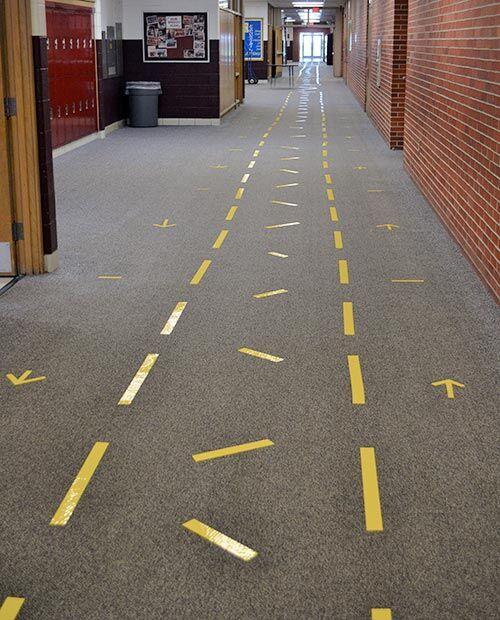 At the middle school, there are also spray-painted maroon Norfolk Panther pawprints outside of entrances so students can ensure social distancing while waiting for their temperature to be taken.
Extra signs have been put up at all district buildings, encouraging students to follow local health guidelines such as washing hands and distancing.
When it comes to sanitization, teachers have been asked to remove items like bean bag chairs, sofas and rugs out of their classrooms to help with cleaning.
"We hate taking those things out of the classrooms because those items are what makes a classroom feel like more than just desks, a SmartBoard, whiteboards and walls," Hughes said. "What people don't realize is that it can be hard for a teacher to get rid of those items. There is definitely some emotional attachment to (them)."
NPS staff had to buy a lot of sanitizing products to help limit virus spread, along with a load of other supplies, said Bill Robinson, associate superintendent.
Chemicals the district will be using have COVID-killing properties, he said. Sanitizing "guns" will be used to spray down lockers, playground equipment and other areas with cleaning products.
Other supplies the district has purchased are disposable face masks, extra paper towels, spray bottles, floor tape, hand sanitizer, signs and more. Portable desk dividers will be used in classrooms with smaller groups of students.
All of these items come at a price to the district, but the costs are coming out of the Coronavirus Aid, Relief and Economic Security (CARES) Act, the government stimulus bill created this spring. NPS received $674,247 to use on such supplies and more for the fall semester.
"All of the (supplies) in isolation aren't super expensive, but when you are buying a thousand of them, it adds up," Robinson said. "That's where the CARES money in our area is primarily used toward."
For example, about 1,200 desk dividers for the district cost $25,000, Robinson said. A 55-gallon container of the district's cleaning agent is about $1,000.
Most of the district's CARES Act funds have been accounted for, but there should be enough, Robinson said.
"We bought enough of these items to get through the next six months or so without going through our general funds," Robinson said. "We're preparing for several months out."
Employees also have been trying to space out furniture and desks in each school to social distance as much as possible.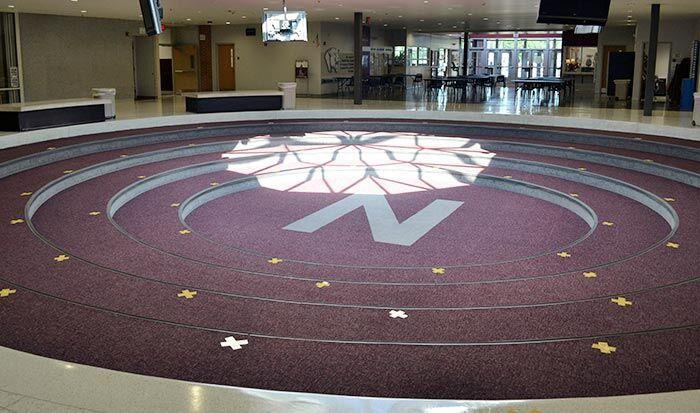 "Our head custodian, Jim Beltz, and I went around to a couple of our classrooms and looked at what 6 feet of social distancing for desks would look like in a typical classroom," Hughes said. "We are used to having anywhere from 26 to 32 desks in a given room. After taking desks out of the classroom to fit the 6 feet of social distancing recommendation, we were only able to fit 14 to 15 desks in the room. Even then, it's pretty tight."
Not everyone will fit in the cafeteria, either. The middle school now has a few areas designated for meals, with spots marked for students to distance themselves.
When parents and students arriving at school buildings Thursday and Friday, there will be multiple entrances for different grades to reduce crowding and to complete health screenings.
While half of NPS students will be attending their first day of school on Thursday and the other half on Friday, everyone will convene for classes on Monday, Aug. 17.
Hughes said he's looking forward to the beginning of the school year, and minor changes might be made after observing how the first two days go.
"Some areas will definitely look different due to the nature of social distancing. However, we still want the school to be a place kids want to be," Hughes said. "Our students might remember those physical changes to the building, but what they will ultimately remember is the people inside our building and the relationships that have been formed this upcoming school year."