The Norfolk Arts Center has welcomed two new artists and exhibits.
At a reception last week, Tess Kilpatrick-Petersen and Eric Stearns chatted with visitors about their paintings and pottery, respectively, before giving formal presentations on their subjects in front of an audience. In the center's atrium hung Kilpatrick-Petersen's paintings, oil on wood, while Stearns' pottery both rested on pedestals and hung on the walls inside the gallery.
In her remarks, Kilpatrick-Petersen explained her inspiration and thought process for her pieces. She was initially inspired by watching her niece jump into a pool and wished to capture that moment of motion, but not with a video camera; rather, she painted her niece in full color and then drew outlines of her descending downward — floaties and all.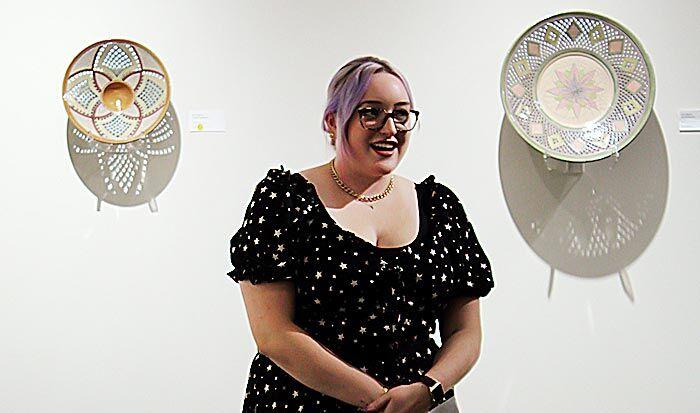 After that, she was hooked. She lost her job early in the pandemic, which allowed her time to focus on her artwork. Combined with her interest in interior design, she was able to create a 3D effect with neon outlines surrounding the main subject, showcasing different angles and movements in still art.
"There are always so many different views, depending on your vantage point," she said.
She wrestles with control over her painting by allowing certain moments of spontaneity mixed with a command over the general design. She uses digital illustration to map out a sketch before applying it to the wood. When she's ready to begin, she dilutes the oil paint, which then drips randomly, forcing her to go with the flow and relax about the end result.
Kilpatrick-Petersen draws most of her inspiration from her family and dog, but now she finds herself painting more celebrities. She has painted Korean pop group BTS and even American singer Britney Spears, the latter with more nuance considering recent events.
The painting of Spears has ties to her childhood claim to fame on the Mickey Mouse Clubhouse all the way to the prevalent Free Britney movement. The singer is embroiled in what she calls an "abusive" conservatorship with her father, and she has voiced her desire to sue her family. Kilpatrick-Petersen said the painting shows how people's opinions and actions can changethroughout time.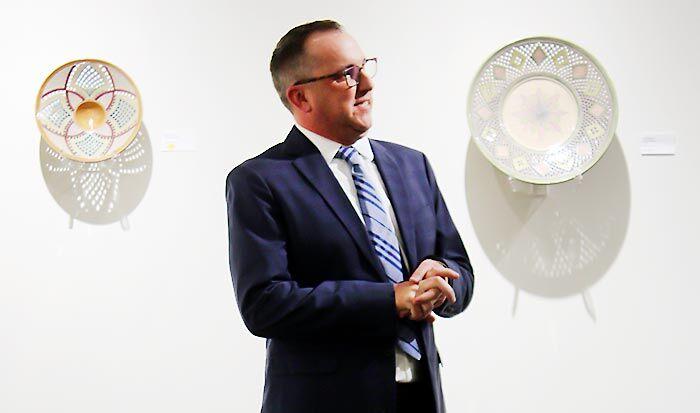 "It represents change through time," she said. "Past and present can change our point of view."
As a whole, painting celebrities has taught her much about how people can relate to each other.
"How we view celebrities, how we view each other and how we treat each other all tie together," she said. "Pop culture can show our own growth, or lack thereof, in our culture."
As for the future of her art style, she wants to "keep exploring the outline method and use more movement to keep things chaotic and ripe."
Stearns, the chair of the art department at Doane University, has been making pottery since a 2001 college class. He uses the Raku effect, the process of taking a piece of out the kiln and burying it in a container with flammable materials to produce cracking in the ceramic. The smoke from the burning materials plugs the cracks, forming black outlines throughout the piece.
Stearns says ceramics "pushes you as an artist" and that his art is "process-driven." He had to learn how to make his own glaze since the COVID pandemic cut off his usual Canadian supply, a work ethic learned from his childhood on the farm.
He draws inspiration from nature, and his "color vocabulary" spans from "muted pastels" to "bright and vibrant," with designs titled after everything from Norse mythology to Christmas.
When most people think of pottery, he said, they think of bowls and vases and other useful items. He focuses on hanging art, though, because "you don't see a lot of pedestals in people's homes." The way a piece of pottery hangs on a wall can create shadows, adding to the beauty and distinctiveness of a piece.
"It's not often that you see ceramacists hanging the majority of the show," said program coordinator Elley Coffin. "Shadows have a beautiful elegance that adds to the show."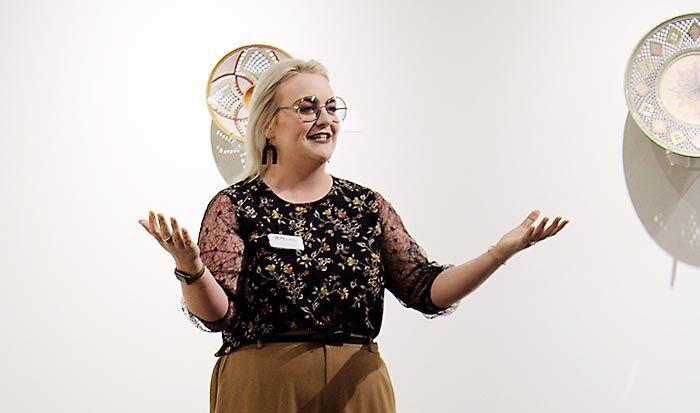 In the end, artistry is all about learning from your mistakes and growing in your craft.
"If you don't break a piece," Stearns said, "you're never going to learn."
The exhibit will run until Thursday, Nov. 25.