ALLEN — It happens only twice a year, but the sights and sounds of the flea market at the Love-a-Lop Exotic Farm at Allen make up for it; it's double the fun.
This year marks the 31st year for the exotic animal sale, which is in June and September at the home of Mike and Val Isom.
You might hear, "Do you want to see a chicken sit up and dance?" as you watch a fluffy, pink-headed chicken do just that. Or you might stand near someone holding a ferret and be told, "They're litter-box trained, so you can let them run loose or keep them in a cage." Or, while studying the looks of a guinea pig, be given this piece of advice: "I always look at the nose first. Nose, then face. I don't want to be disappointed."
The Isom farm is a busy place during each swap meet. Mike buzzes around the property on a four-wheeler, while Val introduces activities for kids of all ages: an egg hunt, for example, or a dress-a-pet contest. Kids might compete for the best pig squeal or rooster crow. Plus, there's a playground for the kids.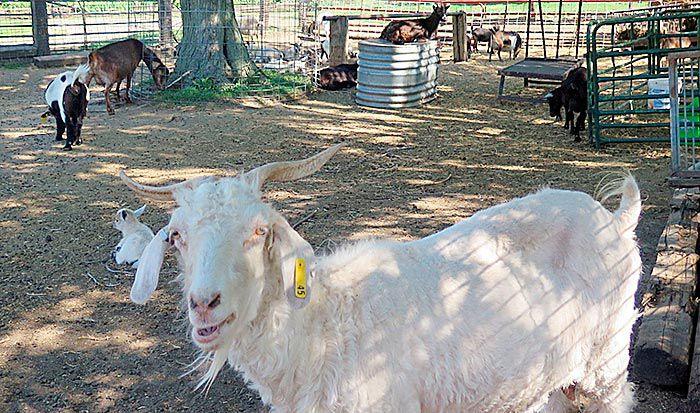 It's not surprising there's plenty for kids to do. After all, Mike and Val have fostered at least 100 children at the Isom farm in the 43 years they've been married. When kids were reluctant or too shy to speak, being around animals brought them out of their shell.
Six months after the couple said, "I do," they began to take in foster children. Of those, they adopted three and welcomed two biologically. They now have guardianship of two young boys, as well as that of a 71-year-old mentally challenged woman who's lived with the Isoms for 21 years.
Mike and Val began their married life milking cows, 135 of them. As Val began her 22-year stint as a 4-H leader, she began raising other, more unusual animals. She went to an auction and brought home a red golden pheasant.
"It went from there," she said. The Love-a-Lop name for the farm came from the days Val showed lop-eared rabbits nationally.
Today, pens at the Isom farm hold such unusual animals as miniature ponies; white rheas that are similar in appearance to a small ostrich; and Angora goats that, when sheared, fill a barrel with luxurious mohair fiber.
Next to the Isoms' pens of exotic animals is a farm pond where ducks swim and around which vendors set up — this year there were around 40. Among the numerous birds and animals marketed were quail, ducks, ring-necked doves and chickens, along with rabbits, pigs, gerbils, guinea pigs and domestic kittens.
Other vendors peddled stuffed animals, as well as items such as rugs, potted flowers, baked goods, jams and jellies, tools, rummage, automotive parts, T-shirts, metalwork and jewelry.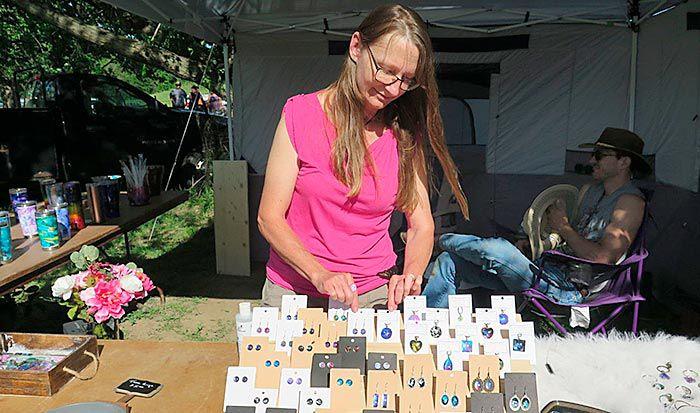 In addition to the exotic animal swap meets, the Isoms bring animals to fill petting pens at the Wayne County and Dixon County fairs. They also held their first wedding this season during the swap meet.
"The couple met here so they decided to get married here," Val said. "It's the first ever."
Having a farm home and business centered on exotic animals has been a natural progression for Val. As a youngster, she enjoyed climbing trees to catch blackbirds, and she was always bringing home snakes, frogs, raccoons and even skunks.
"If I could catch it, I brought it home," she said.
Now that Val and Mike have children and grandchildren of their own, they share their enthusiasm for wildlife.
"I love my life. I can't imagine doing anything else," Val said. "This is my own piece of paradise."