LINCOLN — The Nebraska wrestling team — which entered the season as the fifth-ranked team in the country — has high expectations for the season, with a former Norfolk High standout in the starting lineup.
Returning to competition for the first time in 10 months, Norfolk's Caleb Licking is part of a stacked senior class that also includes Liam Cronin, Chad Red Jr., Eric Schultz and Christian Lance.
"We have some dogs on this team. Being on a team like Nebraska, the expectations for us are super high," Licking said. "Every guy believes in each other, and we are searching for that national title, which is crazy to think about."
The Huskers opened the season against two ranked opponents, with a win over No. 12 Minnesota and then a loss to top-ranked Iowa last Friday.
"There's been a lot of growth that comes with experiences in tournaments and working out with the other guys in the room. The environment around me has definitely helped me develop as a wrestler," Licking said.
Licking has improved every year as a Husker, going from a 5-4 record his redshirt freshman year to a 17-5 record in his junior year, battling his way into the starting lineup.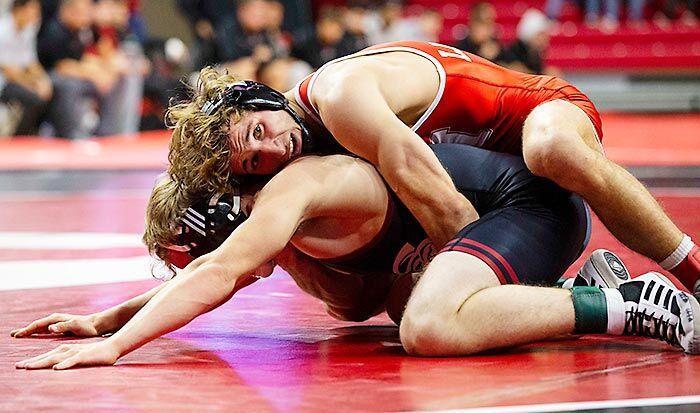 "He's a high-character kid. He's going to lay it all on the line every time he steps on the mat," Nebraska assistant coach Robert Kokesh said. "He needs to continue to stay the course. We expect a lot from him at the end of the year."
Licking came to Nebraska after winning two Class A state titles at Norfolk High in 2015 and 2016 in the 152-pound weight class. Licking went 161-22 in high school, wrestling under Tony Brown and Justin Grey.
Licking jumped onto the college scene, competing in the 149-pound weight class before transitioning to 157.
"I live at 157," Licking said.
In 2020, in the final dual of the season at Minnesota, Nebraska's Peyton Robb didn't make weight, allowing Licking to wrestle. Licking didn't yield a single point in his match against Minnesota's Ryan Thomas, which helped cap off the victory for the Huskers.
"The win solidified myself as a starter," Licking said. "It will always be a crazy memory because I wasn't supposed to wrestle that night."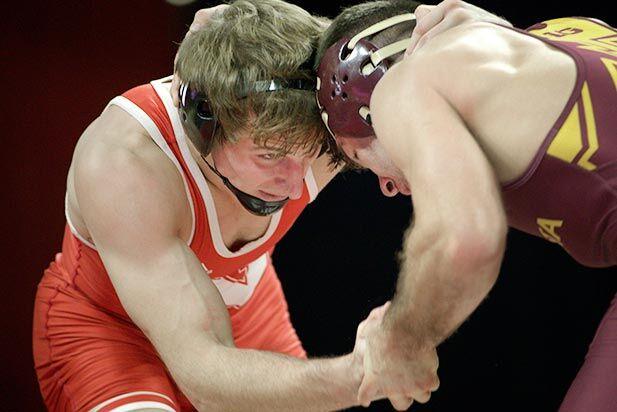 Licking enters his senior season with plenty of confidence and is thankful that they are able to compete during the pandemic.
"I'm working toward being an All-American in March," Licking said. "There was so much doubt before the season, but we're all super grateful to do what we love."
Nebraska opened the season with a 22-14 win over No. 12 Minnesota, but Licking lost his match 10-5 to No. 5 Brayton Lee. Against top-ranked Iowa, the Huskers fell 31-6. Licking took on the Hawkeyes' Kaleb Young, the No. 6 157-pound wrestler in the country, and lost 17-5.
"You can always learn from those different situations and learn to get better. Win or lose, he can still get better. It all matters when it comes down to the end of the season," Kokesh said. "Losing isn't easy, but you've got to be able to get better from those losses. I think Caleb definitely will."
Even though Licking is still searching for his first win of the season, Kokesh said Licking has been wrestling some of the best wrestlers early on and can grow from the previous matches.
"He needs to continue to work on his skillset. He's very athletic, can scramble well and he's tough on top. He needs to continue to develop those qualities that he has and to continue to get a little bit better each day, working on small key factors that are going to make the biggest differences in matches," Kokesh said. "Staying the course, believing in himself, coaches and his team, I think that will be a game changer at the end of the season going into the Big Ten tournament and NCAA tournament."
The Huskers are now ranked No. 6 in the country and are now preparing for a match against Northwestern and Maryland at the Devaney Center in Lincoln on Saturday.
"We're looking forward to the rest of the season for our whole team and hopefully things can continue to get better," Kokesh said. "Continuing to develop, learning from our mistakes and get better every day."
With aspirations of becoming an All-American, Licking has the goal of finishing his collegiate career strong and leaving a mark on the program.
"I'd love to be an All-American. I want to be remembered as a guy who wasn't a high recruit but worked hard and made the lineup," Licking said. "My message to young wrestlers would be that you've got to push yourself, find out how far you can go and you have to put yourself in the right environment.
"It might be uncomfortable and scary at first, but those are the places where you'll grow as a person and a wrestler."