LARAMIE, Wyo. — The University of Wyoming's rodeo teams have ended the past three seasons as champions of the Central Rocky Mountain Region competition in both the men's and women's divisions.
And a Battle Creek High School graduate is among the Cowboys who have contributed during the successful run.
Austin Hurlburt grew up competing in rodeo in the Nebraska Junior High Rodeo Association and all the way through high school. Hurlburt graduated from Battle Creek High School and attended junior college at Laramie County Community College.
After spending two years in Laramie, Hurlburt went to school at the University of Wyoming, where he landed a spot on an already star-studded rodeo team.
"Things are going pretty well — we have a had a pretty good team since I got here," Hurlburt said.
On the men's side, Wyoming returns numerous regional champions along with Hurlburt, who has jumped into more of a leadership role on the team.
"This year we have a lot of younger kids, so hopefully we can show them how it works around here," Hurlburt said. "It's been a blast showing them the ropes."
Not only has the change from going from an underclassman to an upperclassman been different, but Hurlburt had to adapt from the competition level at a junior college level to the level Wyoming competes on — a level he didn't expect.
"We go to the rodeos now and we are like a big family, we're always helping each other out and we actually hang out," Hurlburt said.
Hurlburt competes in a few different events, such as roping, riding and steer wrestling, but he really enjoys tie-down roping.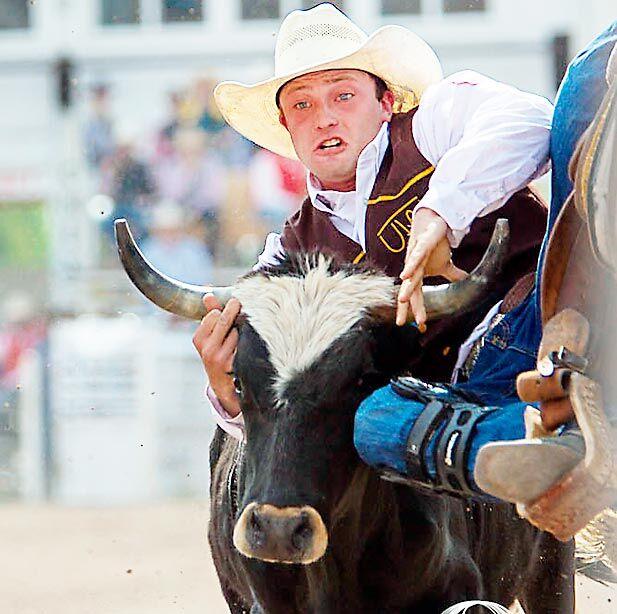 "It's a one-man event, it's solely on you, and I've been doing it ever since I can remember," Hurlburt said.
Hurlburt and his teammates have a goal to not only defend their title, but they look to shatter school records.
Over the weekend at the Shawn Dubie Memorial Rodeo hosted by Laramie County Community College, the Wyoming men's rodeo team took first place and set a school record at a regular-season rodeo with 945 points.
"They did really well, and Austin was a huge part of that. He placed in the calf roping and steer wrestling," Wyoming coach Beau Clark said. "He's had a great start to this year. His practices have been great, he's stepped up to be a leader on the team and it's fun to see him do so well."
Clark said Hurlburt is a winner and has been a key piece to the success.
"He finds a way to succeed, and he will always find a way to win," Clark said. "As a leader, Austin is one of the sweetest, kindest, nicest and best human beings you could ever be around. He fits in perfectly."
Hurlburt was a huge part of that Central Rocky Mountain Region winning team last year and plans to contribute again this year.
"It's been pretty cool to take off with the success," Hurlburt said.
This spring, Hurlburt plans to graduate from the University of Wyoming with a degree in agriculture communications. He might be done competing in college, but competing in the rodeos is something he plans to do for a long time.
"I plan to go to rodeos in the Professional Rodeo Cowboys Association, so after college I plan to go to the pro rodeos for a while," Hurlburt said. "Rodeos have been a big part of my whole life, and I've been blessed with the opportunity to do it while I get an education."