O'NEILL — Many fathers dream of having their children follow in their footsteps and work in the same field.
MJ and Jane Kersenbrock's children — Claire, Mary, Anne and John — went from stars on the track to working in the dentistry field.
At St. Mary's High School in O'Neill, the siblings competed in volleyball, football, basketball and track and field from 1996, when Claire started high school, all the way until John graduated from St. Mary's in 2009.
While the athletic family enjoyed competing on every field, court and atmosphere, they were at the top of their game on the track.
"We all shined at track," Mary Kersenbrock Losing said. "Track was the sport where we were most talented in."
They still hold numerous St. Mary's school records to this day.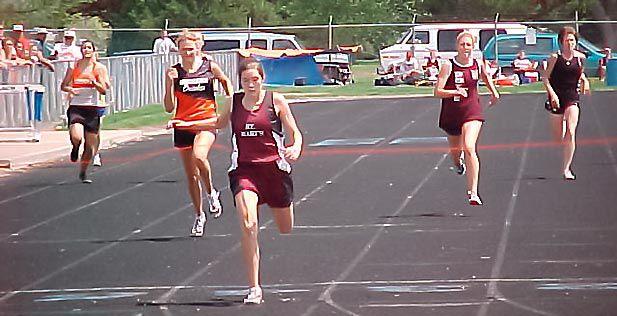 "They were really dynamic athletes," former St. Mary's track and field coach Quana Laursen said. "They were a pleasure to be around. They always kept me on my toes, and they were extremely coachable."
The Kersenbrock children developed their own skills and were able to pursue each event with their various strengths.
Claire has two school records she set in 1999. One came in the long jump with a leap of 17 feet, 6.5 inches, and she was part of the 4x100 relay team that had a time of 51.53 seconds.
In her senior year, Claire took home the gold medal at the state meet with a time of 26.21 seconds in the 200-meter dash.
Mary came along right behind her sister as she broke more school records and added five state championships to the Kersenbrock name when she was an upperclassman.
"My junior and senior year were the races that people remember me for," Mary Kersenbrock Losing said. "It is a team sport, but it is also more of an individual effort-based sport. That was advantageous for us because you could do your best and score really well or run really well. So you are helping your team, but you are also relying on your individual performance."
In Mary's junior year, she took home the first-place medal in the 100- and 200-meter dash, while she also had a runner-up finish in the 400. St. Mary's finished in third place in the overall team standings at the state meet in Class D.
Then in her senior year, she swept the sprinting events in winning the 100-, 200- and 400-meter dash in Class D and also was part of the fourth-place 4x100 relay team.
"She was determined. She had the strongest work ethic of any kid I've ever known," Laursen said. "She knew she could do anything."
That included helping to lead St. Mary's to a runner-up finish in Class D to Elm Creek in 2002.
Mary still holds school records in the 200 with a time of 25.87 and the 400 with a time of 57.74, and she was part of the 4x100 relay team in 1999 with her sister, Claire.
"Mary was a tenacious competitor. I think she went into every race, no matter the competition, feeling she would win," current St. Mary's athletic director Tony Allen said. "Mary has been coaching for me on the track team the last few years, and you can still see her competitiveness as a coach. She has been a great contributor to the program and still has many school records."
Anne followed Mary in line, and she still holds one school record in the 100-meter dash, which she broke in 2004 with a time of 12.35.
To round out the group, John Kersenbrock was both a sprinter and a jumper at St. Mary's as he holds school records in the 100-, 200- and 400-meter dash, long jump and triple jump, which he broke in 2009.
When Claire graduated from St. Mary's in 2000, she went to Nebraska Wesleyan University and competed on the track and field team. Once Mary (2002), Anne (2006) and John (2009) graduated from St. Mary's, they all followed Claire to continue their track careers at Nebraska Wesleyan.
After college they all started to slowly go their separate ways, but they would later find themselves back together in some way or another.
Mary followed in her father's footsteps as she went to dental school at Creighton University School of Dentistry and graduated in 2010. After her time in Omaha, she started working as a dentist with her father at Kersenbrock Dental Care in O'Neill.
After graduating from Nebraska Wesleyan, John also went to dental school at Creighton University School of Dentistry and graduated in 2013. He is also a dentist with his sister and father at Kersenbrock Dental Care.
MJ graduated from the Creighton University School of Dentistry in 1981.
Anne is also back in O'Neill after graduating from Anne Kirkwood Community College in Cedar Rapids Iowa, with her associate degree in dental laboratory technician. She came back to the area and is now working as a dental lab technician.
MJ and Jane have been blessed to have a few of their kids return to O'Neill and start families of their own, MJ said.
"It's been very gratifying for sure. We've been very blessed to have them do well in school and return. A lot of times, when somebody leaves high school, they say, 'I want to get out of here and I don't want to come back.' They might have had that attitude, but they came back around," he said with a laugh.
Claire is the only only Kersenbrock child not living in O'Neill. She is living in Lincoln as an ultra sonographer and she also teaches at Orangetheory Fitness.
Mary, Anne and John also have hung around the St. Mary's track and field program helping to coach the sprinters and jumpers.
A few of the Kersenbrock children also have started families of their own.
Claire Kersenbrock Bixenmann has a 14-year-old daughter, Grace; Mary Kersenbrock Losing has three kids, 4-year-old Emma, 2-year-old Abigail and newborn Isaac. Anne Koelzer has a 3-year-old son, John, and an 11-month-old daughter, Myla.
Mary said she is fortunate to have her kids grow up in the small community of O'Neill.
"I'm happy that my family and my kids will get to grow up in O'Neill with the small-town, family atmosphere. Being a dentist and being able to serve the community, share my gifts, as a dental provider is special to me," she said. "Seeing all facets of life is a good fit for me here in O'Neill."
MJ is grateful to have his family around and work in the similar field as himself.
"It wasn't like I pushed them into dentistry, but it's very nice to know that they can appreciate the value of a dentist and what a dentist does," MJ said. "In the end, we help relieve pain and it's good to see that."
The Kersenbrock family has been a close-knit family their entire lives and while almost all of them live in O'Neill, they never moved from Nebraska.
"I consider it a grace when you say I would ever have imagined them being so close. It's been a blessing having them around," MJ said.