CHEYENNE, Wyo. — Years after becoming Norfolk High's first swimming state champion, Jeff Geyer still can't seem to stay away from the water.
Like many, Geyer got involved in different hobbies as he grew up from a little youngster all the way through adulthood. Whether it is playing golf, knitting or fishing in the great outdoors, many find something they love to do.
For Geyer and his siblings, that something was swimming. And now he's passed that on to his children.
Growing up, Geyer and his family traveled around the world following his father's job as he was working for Goodyear Tire and Rubber Co.
Geyer was 7 years old when they finally settled down in Norfolk. It was later in 1978, when Geyer and his siblings were thrown into the pool and the sport of swimming.
"The old man got us in the pool pretty quickly," Geyer said as he laughed.
Geyer's siblings, Susie and Doug, also were polished swimmers for Norfolk as Doug was the first top three state finisher at Norfolk High in 1985 in the 50-yard freestyle while Susie went to go swim at Texas A&M University in the late 1990s.
"The Geyer family kind of put Norfolk swimming on the map," current Norfolk swim coach David Nelson said.
At Norfolk, Jeff Geyer was on the swim team and also played tight end and defensive end for the Panthers football team.
"I had a blast playing football; I love that sport," Geyer said.
Geyer ended up playing three years of football, and he lettered all four years on the swim team.
Geyer had set plenty of goals in the pool during his time in high school, which included improving his times and winning a state title.
"In swimming, it's all about time. It doesn't take long for a kid to figure out that it takes some work to get faster. You can have natural talent, but you've got to pay your dues in the pool," Geyer said. "It's setting those personal goals and accomplishing them because it's a time-based sport."
Early on in his career at Norfolk High, Geyer competed in longer distance races, including the 200-meter individual medley, until his junior year, when he suffered from bursitis in his shoulder.
Geyer couldn't do any freestyle or butterfly events because he struggled to move his arm over his head, he said. Geyer then focused on the breaststroke and short distance events.
"It was a hard year. During practices I could only do the breaststroke, and I became a full-time sprinter; that was great," Geyer said. "I enjoyed being a sprinter because that is the fastest event."
At the Nebraska state swim meet in 1988, Geyer was able to break the Norfolk High drought and become the first Panther to win a swimming state championship with a time of 58.83 seconds in the 100-meter breaststroke.
"It was really a special day. I really didn't think about being the first state champ from Norfolk High," Geyer said. "Every swimmer thinks about winning. When I think state champ, that is the accomplishment, and I never really thought about being the first state champion in swimming for Norfolk High."
He broke the school record in the race, and that record lasted until 2018 — which at 30 years was the longest boys and girls record in the books at that time.
In his senior year, Geyer kept the state championship streak alive, but this time it was in the 50-yard freestyle. At the 1989 state meet, Geyer finished with a time of 21.49, just shy of the state record at the time, which was 21.17, set by David Lammel of Millard South in 1984.
"I was actually disappointed. I was happy I won, but I was a little bit disappointed in myself that I missed the state record. It's one of those races that if you have any little screw-up, then you are out," Geyer said. "I was happy that I had a championship that year, but I do remember being a little bit bummed that I didn't get the record. I think I had a pretty good all-around race, but I just wasn't fast enough. A state record would have been one of those goals that I would have really wanted to accomplish."
After graduating from Norfolk High in 1989 with two state championships under his belt, he took his talents to the University of Wyoming on a swim scholarship.
While there, Geyer fell in love with the mountains, and he met his wife, Kiesa, who was a two-time Western Athletic Conference champion in swimming in the 100-meter breaststroke for Wyoming.
After four years, Geyer graduated with a degree in fisheries and wildlife in 1993. He still wasn't sure what he wanted to do so he went back to the University of Wyoming to get his master's degree in wildland hydrology in 1997.
Geyer had a few seasonal jobs with both the game and fish departments in both Idaho and Wyoming, while he and Kiesa were able to settle down in Cheyenne and start a family.
"I didn't know what I was going to do after college, and I didn't want to leave the state, so I got my master's," Geyer said. "I just liked being outside."
In 2016, Geyer was able to get a position as a water specialist with the Laramie County Conservation District. He gets to tinker with every aspect of the hydrologic cycle, and he gets to spend more time in the field helping conserve natural resources.
"It's a dream come true. It's a position for me that is perfect because I've always wanted to be outside. I have a dream job, and I love my job," Geyer said. "I deal with aquifers, stream restoration work. I can't leave the water."
Growing up, Geyer's two children became involved in swimming as well, especially the breaststroke.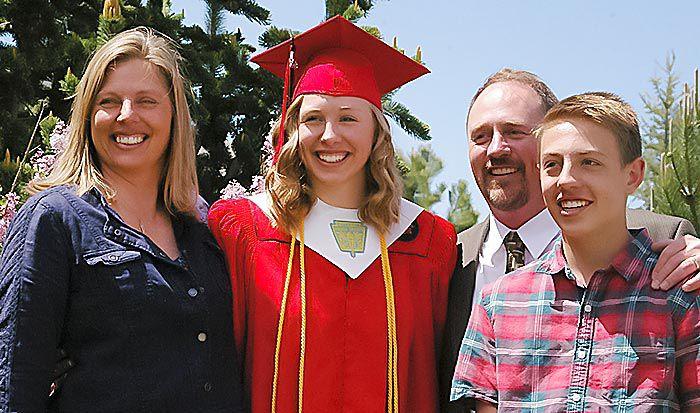 His 19-year-old daughter, Sam, is a swimmer at San Diego State University while Jake, 18, will be attending college in Sheridan, Wyoming, next fall.
After moving around the world as a child, Geyer was happy to be able to stay and grow up in Norfolk. Now that he is in Cheyenne, he plans to stay because he loves the mountains and the astonishing scenery that Wyoming presents.
"I'm happy that this is my home. One of my goals was to stay in Wyoming. Don't get me wrong, I love Norfolk and I love everything about Norfolk. I had a great childhood, and growing up there was great," Geyer said. "I'm an adventurous guy. I like to get out and explore. The mountains are always just calling you.
"It was a dream to stay here, and it happened. I've been pretty blessed."