A painted hand points to the word "Wisper" on a skateboard deck on display at the skate shop Bryce Schmitz operates in downtown Norfolk. 
Despite its misspelling, the word has special meaning for Schmitz, which is why he used it to name the business he started a little more than a year ago: Wisper Skate Shop. And the skateboard deck on display is a tribute to the friendships that inspired Schmitz to open the store.
Wisper Skate Shop started operating at 121 N. Third St. in Norfolk a little over a year ago, but skateboarding captured Schmitz's attention as a young boy.
"Growing up, I ended up watching 'Rob & Big' and 'Viva La Bam' — all of the skateboard shows on MTV. That really got me going," said Schmitz, a 23-year-old Tilden native.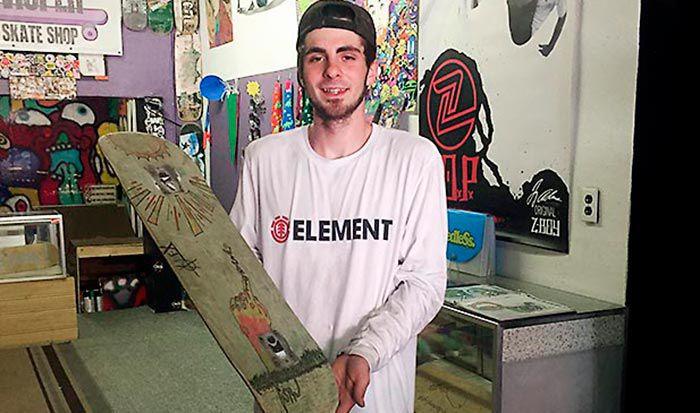 His friends also influenced his love of skateboarding and skater art. In his early teen years, Schmitz and a couple of his buddies from the Meadow Grove area would get together and draw T-shirt designs and create other works of art.
The group of friends called themselves Wisper.
"We just thought it was kind of a cool name," he said. "We did it without the 'H'. We just thought it was cool that way."
One of Schmitz's friends, Christian Mucker, sanded down the deck of an old skateboard and began drawing designs on it. Among those designs was a painted hand pointing to the word "Wisper."
For nine years, Schmitz has kept the board in his possession, as well as a promise he made since the morning of his 14th birthday. That's when Schmitz awoke to the news that Christian and another friend, Josh Hoile, had died as the result of an early-morning car accident at the intersection of 13th Street and Benjamin Avenue in Norfolk.
"I called the one's brother, and we were crying our eyes out," Schmitz said. "I ended up telling him that day that someday we were going to make Wisper into something. I never forgot about it."
Schmitz has struggled since that morning in 2011. He tried classes in several different schools before he ended up finishing his education through home-schooling.
Heavy alcohol consumption also played a role in throwing his life off track — even after opening Wisper in April 2019, he said.
"I had a really bad problem with drinking. For the past six years, I was a heavy alcoholic, so we were off and on," Schmitz said of the store's hours. "We'd be open, but then we'd have to close for a little bit. A lot of it had to do with my drinking problem."
Schmitz is still in the early stages of his sobriety. Last week, he marked four months without a drink. While he's learning to take things day by day and moment by moment, Schmitz said his life appears to be getting back on track.
In addition to Wisper, Schmitz recently accepted a job at another Norfolk business, and he's begun hosting a "Skate School" on Friday afternoons for beginning skateboarders at the shop.
"We've got a little mini ramp in the back room that we can have kids skate on," he said.
He has help running the store — which is open Monday, Wednesday, Thursday and Friday, from 11 a.m. until 7 p.m., and Saturday from 11 a.m. to 5 p.m. — thanks to four others who share an interest in skateboarding. The shop carries skate-associated items and supports local artists.
Schmitz said he wants to make a positive difference in the world and feels he's finally on the right path to do that, but he knows he has to take each day as it comes.
"I just never really saw myself getting this far," he said. "I'm just thankful every day."