Caring for an aging or ill family member can be an exhausting labor of love.
Jeremy and Kristin Starkel learned this firsthand after Jeremy's mother, Glenda "Barb" Starkel, was diagnosed with an aggressive form of lung cancer about five years ago.
"She actually lost her ability to walk, and she was in a wheelchair," Jeremy said. "(My sisters and I) were her primary caregivers, and it was tough. We had to take time off work and had some conflicts in our schedules. To see her decline was hard enough."
Despite the difficulty, the experience ultimately brought the husband and wife back from Omaha to Norfolk, where they now own and operate a business that provides the kind of in-home care services from which Jeremy said his mom would have greatly benefited.
That business — Right at Home in Norfolk — was selected to receive the 2021 emerging business award, part of the Norfolk Area Business Hall of Fame, which is sponsored by the Daily News and First National Bank of Omaha in Norfolk. The award is bestowed upon an enterprise in Northeast Nebraska that has been in existence for five years or less.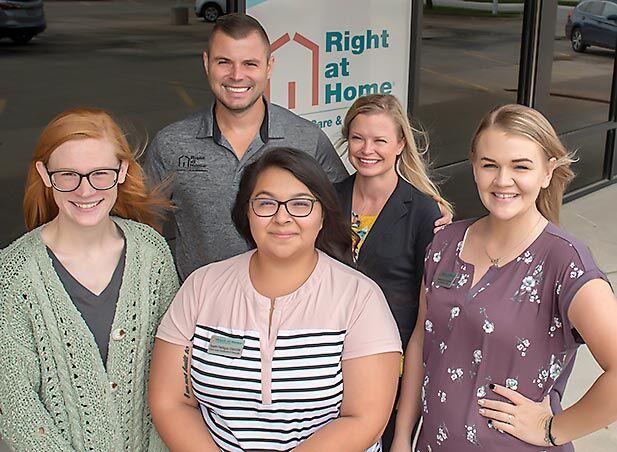 "Since Right at Home opened in 2019, they have helped over 200 families in the community. To Jeremy & Kristin, their business is not about numbers, but quality," Right at Home employee Yoselin Paniagua said in a nomination letter to the Daily News.
That level of quality is a reflection of the Starkels' own experience in caring for a loved one.
"We knew firsthand how hard it is for a family member," Jeremy said. "Sometimes you need a break and respite care."
When Jeremy's mother was diagnosed with cancer, the Starkels — who are Northeast Nebraska natives — were living in Omaha, where they led successful careers. Kristin worked as a dental hygienist; Jeremy worked as a branch manager for one of the largest medical staffing companies in the country.
But as Jeremy split time with his sisters in Norfolk to provide a range of care for their mother that included driving her to and from chemotherapy appointments, doing her laundry, taking out her trash and, as her illness progressed, providing ambulatory assistance, the idea of moving back to Norfolk became more enticing for the Starkels.
Jeremy had met representatives of the corporate headquarters for Right at Home, which began more than 25 years ago in Omaha and now has locations across the nation. The Starkels began having conversations with Right at Home about the possibility of opening their own franchise.
"It was kind of funny because the (Right at Home) recruiter was like, 'Omaha is taken, but have you guys ever heard of Norfolk?' " Kristin said.
"It's odd how the stars just kind of lined up at the end," Jeremy added.
The Starkels opened their first Right at Home location in Norfolk in mid-2019. A location in Columbus later followed. They opened their Grand Island location less than a month ago. Between the three locations, there are up to 125 employees, including office workers and field staff.
JEREMY STARKEL talks about the decision to start Right at Home in Norfolk with his wife, Kristin, in 2019. 
Jeremy's background in medical staffing has provided a solid foundation from which to build their business. In his previous role, he was coaching, hiring and training recruiters and account managers to hire and onboard nurses to get them into hospitals. There are multiple similarities between that and what Right at Home does with companion care services.
While the business does not provide medical care, Right at Home does offer supplemental care on an as-needed basis — up to 24 hours a day, seven days a week — for those who are in need. The supplemental care includes a range of help from companionship and socializing to meal preparation, laundry, medication reminders, safety supervision and transportation. A variety of personal care options are available, too.
The business is a Medicaid provider for low-income individuals through the State of Nebraska, and it is an approved provider for veterans through the VA.
"We can care for vets and their spouses, (covered) 100%," Jeremy said.
The Starkels said if potential clients seek help from Right at Home in an area nearby where no caregiver lives, they can work with a recruiter to see if they can find someone to fill that need. They also have teamed up with other home care agencies in the area to provide help when certain situations have arisen, Jeremy said.
"Our clients are depending on us," he said. "We have clients in little pockets in little villages and towns across Nebraska pretty much. ...We try to really help them."
The Starkels have faced challenges in their new business. Opening Right at Home in Norfolk less than a year before the pandemic began, the couple said they were unsure how COVID-19 would affect them.
"Right at Home corporate was super helpful," Jeremy said. "They formed a COVID task force and did weekly calls with us."
During the height of the pandemic last year, Jeremy said they were able to help some children of at least one assisted living facility's residents achieve caregiver status through the company so they could help provide care for and spend time with their parent.
KRISTIN STARKEL smiles as she talks about her decision to leave Omaha, where she worked as a dental hygienist, to start a Right at Home franch…
The Starkels give a lot of the credit to their success thus far to their staff, all of whom are thoroughly vetted, drug tested and trained before they are sent out. Many of their employees, they added, have formed strong relationships with the individuals they've assisted.
"They're really the lifeblood of what Right at Home is," Jeremy said of the business' employees. "They're just as passionate as we are at trying to help people."
Looking to the future, Kristin said they are looking forward to being able to help as many people as they can; the development of the new central Nebraska office in Grand Island will allow the Starkels to further grow their business into something that undoubtedly would have made Jeremy's mother proud.
"How cool is it to have some stake in helping people have a little bit better life at some point?" Jeremy said.