With many public pools closed or limiting hours, those looking to purchase a swimming pool to use the rest of the summer may have to look a little harder this year. 
Businesses selling backyard swimming pools and stock tanks have struggled to keep up with demand this summer, largely because of the closing of public swimming pools as well as the desire for outdoor activities during the pandemic.
In addition to the high demand for pools this summer, manufacturers have been forced to limit production and staffing because of COVID-19, hindering their ability to provide businesses with the supply needed to timely serve customers.
At Tropical Waters in Norfolk, co-owner Kristy Braun said the number of pools the business has sold in 2020 is double what it sells in a normal year. The demand for pool chemicals has tripled, but Tropical Waters has not run into a shortage on that front, Braun said.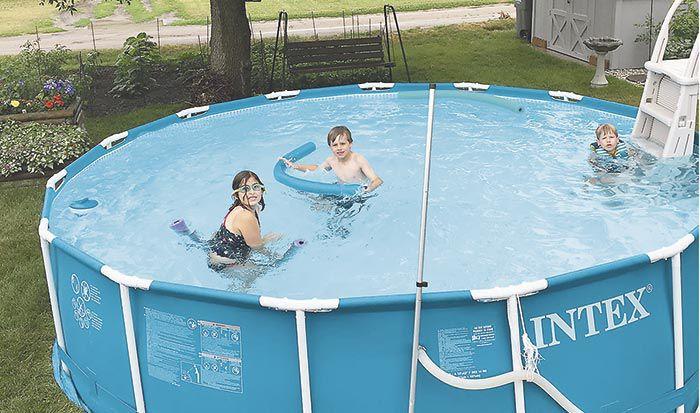 Most of Braun's customers within the past month have been told that their pools likely won't be available until September or October, with some of them having to wait until 2021 until they can call a new swimming pool their own.
Splash Superpools out of Arkansas and Radiant Pools in New York do a bulk of the swimming pool and spa manufacturing for Tropical Waters. Braun said she and her team have occasionally had the opportunity to borrow supplies and parts from a Council Bluffs, Iowa, affiliate, but the limited amount of production coming in simply hasn't met the supply and demand for Tropical Waters.
"Manufacturing businesses just really haven't had the needed resources — from people to equipment — because of the current situation," Braun said. "You pair that with the increasing desire to have a swimming pool and it's just really hard to guarantee people they'll get their pool as soon as they're hoping for."
Filter systems and ladders are also among the necessary items when purchasing a pool, and there hasn't been any indication from manufacturers as to how soon filter systems will be available, Braun said.
Residents who are hoping to purchase kid-size pools and stock tanks are also experiencing struggles in finding what they're looking for. The wait to receive these items at times for some can last several weeks, but the Norfolk Tractor Supply Co. hopes to have its plastic stock tanks available within a week of a request, according to Herman Klabunde.
Other businesses that sell stock tanks, such as Bomgaars and Farm & Ranch, noted they are seeing a much higher demand for stock tanks than in a typical summer. Farm & Ranch receives a bulk of its manufacturing from Logan Valley Sales Co. in Pender, and while Farm & Ranch has various sizes of stock tanks in-stock, it could be up to 4-5 weeks before new tanks become available once they run out.
Most businesses started noticing an uptick in sales in May, and customers started requesting spas at a high rate in early April, Braun said. Workers at local businesses are doing whatever is possible to provide customers with pools during the summer months, Braun said, but patience is key, and manufacturers are limited because of the current situation.
"Service has increased immensely and we've been working nonstop the last couple months," Braun said. "A lot of people who were planning vacations this summer are now using that money for pools for their families. It's a pretty unique situation."