While flowers in gardens and porch pots are gasping for breath, the flowers behind Roxie's Elegant Bridal on Norfolk Avenue are in full bloom.
And they'll continue to look beautiful long after the thermostat drops below the freezing mark and snow blankets Norfolk's streets and alleyways.
That's because a Tilden artist has turned a dull wall into a colorful garden. It's part of the Norfolk Alleyway Art project, whose goal is to create murals on the backs of buildings in downtown Norfolk.
Hopefully, two more murals should be finished this fall, said Traci Jeffrey, director of the Norfolk Area Visitor's Bureau, which is coordinating the effort.
The man responsible for planting the flower garden is Adam Boggs, son of the Rev. Chad and Becky Boggs of Tilden.
His brothers, Evan and Grant, assisted.
The mural is based on John 7:38, which says, "Whoever believes in me, as the Scripture has said, 'Out of his heart will flow rivers of living water.' "
Boggs, a 19-year-old sophomore at Northeast Community College, has been drawing since he was 3 years old, he said. Around the age of 12, he became interested in "telling stories through pictures."
Since then, he has created a number of comic books that are faith based. For instance, one is titled "David's Mighty Men: A Comic Book Based on 2 Samual 23: 8-39." Another is "Heroes of the Bible."
"Two are based on 2 Samuel, two tell the Gospel story, one is an allegory on the armor of God, from Ephesians," he said. "All ages can enjoy them, but I keep kids in mind when I do them."
The comic books are self published through Amazon.com, meaning Boggs drew the characters, wrote the stories, designed the books and did the setup work necessary to have them published.
His company is called AKB Comics.
"The first one was the most challenging," he said. "I had to learn what I needed to learn to publish them."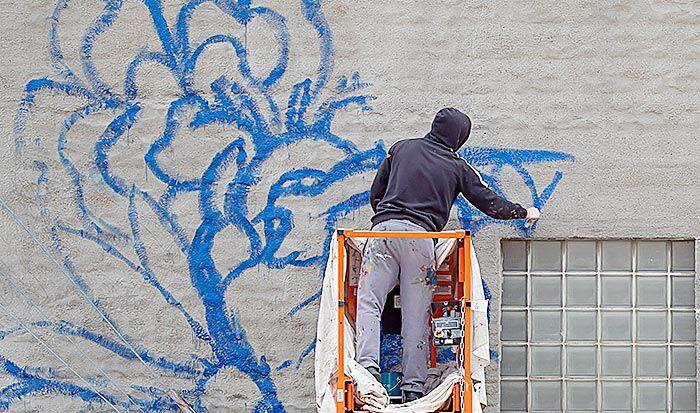 Boggs also does work on much grander scales, including painting murals on buildings. In the past few months, he's transformed the walls of two buildings in Tilden in addition to the one in Norfolk.
"The city (of Tilden) contacted me for the first one," he said. "They wanted to brighten up the town."
With a windmill, train tracks, flowers and a rainbow, it's meant to represent "the old days," Boggs said.
The other, which was commissioned by the American Legion Club in Tilden, shows the American flag and silhouette of soldiers raising the American flag on Mount Suribachi during the Battle of Iwo Jima in the final months of World War II.
In addition to comic books and murals, Boggs creates smaller paintings and even family portraits, one of which was once used as his family's Christmas card and included his parents and eight siblings.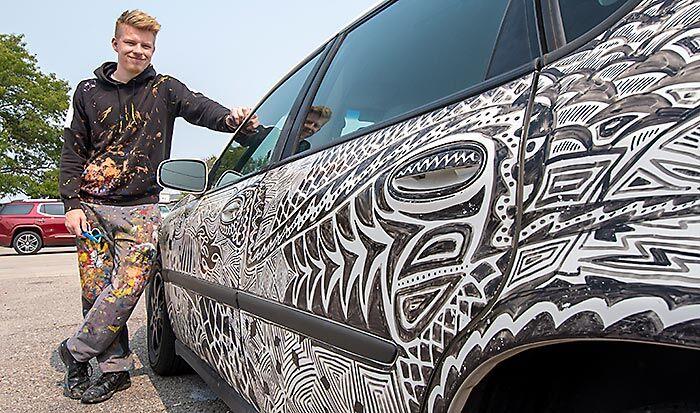 The 2002 Chevy Impala he drives is adorned with a dragon on one side and a white horse on the other that were drawn with Sharpies and covered with a clear coat to keep them from wasting away.
The dragon represents the fall of humanity, and the white horse represents God, he said.
Not surprisingly, Boggs is studying graphic design at Northeast and intends to study for his bachelor's degree when he's done at Northeast. He hasn't decided on a school yet.
Now he's busy attending classes, painting and sharing his work with others.
After all, "drawing is just something I enjoy," he said.