In the mornings, Haley Mattison teaches Lifetime Aerobics classes at Northeast Community College, and once classes are over for the day, she changes gears.
"I'm a full-time mom. That's why (being an) adjunct is actually perfect for me," she said. "Typically my mornings are for school, I'm an adjunct in the morning. Afternoons I get to go home and be mom — do crafts and take the kids to the park."
The arrangement works out well for Mattison, who is originally from Norfolk and was the director of corporate wellness for a YMCA in Colorado while raising a family with her husband, Richard.
"We decided we wanted to slow down a little bit and enjoy life as a family, get away from the hustle and bustle," Mattison said. "… When we were deciding to move back, I reached out to the college, reached out to Michele and applied for the position. I did seminars for corporate companies so it blended well."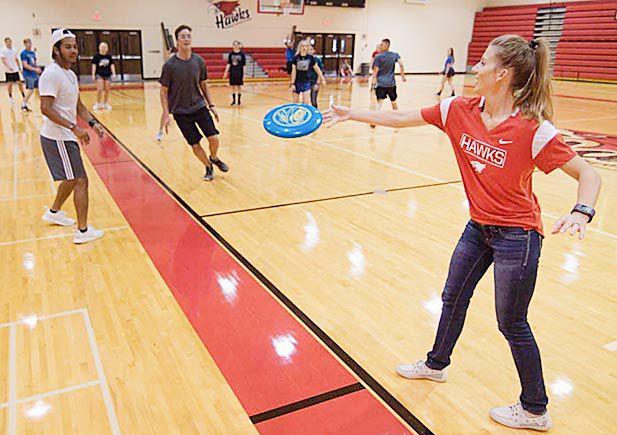 She is one of a growing group of adjunct instructors at the college. Northeast is part of a larger trend toward hiring more adjuncts, said Dr. Michele Gill, dean of health and wellness and interim vice president of educational services. There are 220 adjuncts and 127 full-time professors employed there this year, according to a college spokesman.
Although they don't replace full-time faculty members, adjunct instructors help the college expand its class offerings as students look for more flexible options to further their education. The college is able to offer a variety of classes like traditional, online, continuing education and industry training thanks in part to adjunct instructors.
The ability to provide this kind of flexibility is invaluable, she said.
"If you didn't have (adjuncts), you couldn't do what you need to do to make education go for people," she said. "Because everyone wants it at the time and the choice of class they want when they want. That's why you have to have multiple modes."
Each division has at least one adjunct instructor, and often more. For example, in the health and wellness division that Gill oversees and Mattison teaches in, there are 15 full-time faculty members and 150 adjuncts, the latter of which will cover courses like industry trainings.
The expertise level and education required to teach depends on the type of class. For a short-term training course, a recognized credential in the industry is needed. A career and transfer course requires a bachelor's degree and industry training. A transfer course requires a master's degree and 18 hours of expertise in the subject matter.
Deans like Gill vet credentials and the requirements, and she said hiring an adjunct is a balancing act of sorts between expertise and need.
"It's more cost-effective sometimes to bring an adjunct in because you don't have benefits and other things to pay, but you have to find that subject matter expert," she said. "So it's balancing the expertise with what you need."
In some areas where it's more of a challenge to find people who meet the requirements, like STEM, psychology and English classes, someone out of the region may be hired to teach online classes.
Another benefit is that adjuncts help programs stay nimble to changing demands.
"Education changes, programs change … sometimes when (full-time faculty) are stretched and you're trying something new, an adjunct is a good way to bridge in a new program. Build up demand and then you can bring in full-time (faculty)."
An example is Jason Love, Norfolk market president at Midwest Bank. He's not teaching this semester, but he's taught banking and lending classes in the past. There weren't students to teach this semester, he said, but he would teach again if the opportunity were to arise.
He said in the classroom, he's able to offer the professional, real-world side of things to students and even offer internship opportunities.
"I think it helps a lot, it gives kids a different perspective instead of going from book material," he said. "I think you can give them real-life situations how it happens day-to-day instead of just from the book."
He gains interesting insights from his students as well.
"You learn a lot, actually, from the students, how they look at the industry. They look at it a little different than how I do," he said. "Both of us are constantly learning. They bring a little different perspective."
The adjuncts also bring their own experiences to the faculty as a whole, Gill said.
"They work side by side with full-time faculty. But I think it's that blend of life experience, it's that blend of wanting to be involved in education but having a career in another field."
And faculty members are incredibly helpful to them, Mattison said.
"This is probably the most supporting company or organization I've ever worked for. … I email or call or text my dean and within minutes I hear a response from anyone to help me, offer advice, invite me into their office to describe it firsthand," she said. "Even within my own department, everyone shares projects, worksheets, we share ideas. It's one big cohesive group that works really well together."
Although she didn't foresee teaching as something she'd do, she looks forward to teaching more and sees the services she provides as an adjunct as something that will be more needed in the future.
"The community college is growing leaps and bounds every year," she said. "As more students come, there'll be opportunities for new classes."