Summer is the season 4-H and FFA members wait and prepare for all year long.
For weeks, members are either creating static exhibits, training their dogs, cats and rabbits for competition or prepping livestock to be judged in county fairs around Nebraska.
When many fairs were canceled because of COVID-19, many 4-H and FFA members wondered if the months of preparation were going to go to waste.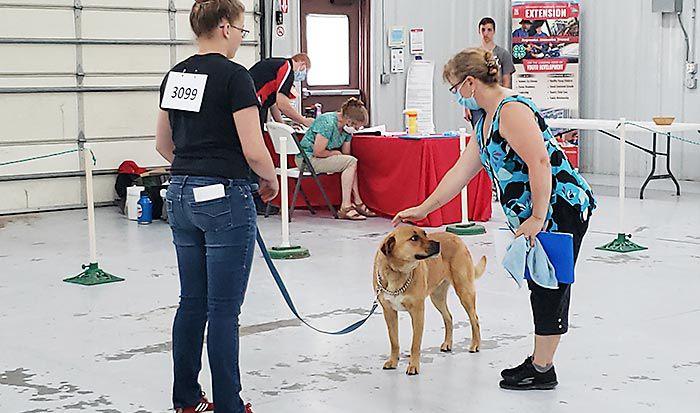 But while Madison County decided to postpone its fair, it decided to still host a showcase for static exhibit and livestock competitions.
"This is going to be along the lines of the county fair, but since it was postponed, this is our way to recognize the hard work of our 4-H'ers," said Sarah Polacek, 4-H extension associate. "We are spreading events out to follow the modifications for our state 4-H as well as the local health department and agricultural society."
Static exhibits, such as quilts, crafts and other artwork, were submitted by members and judged at the end of June.
The showcase, hosted by the Nebraska Extension in Madison County, Madison County 4-H Council and the Madison County Ag Society, received more than 500 exhibits, which is lower than previous years but was more than the organizations were expecting, Polacek said.
The livestock portion of the showcase began Monday with dog, cat and companion animal shows at the Madison County Fairgrounds. Other livestock competitions — including horses, goats, swine, beef and more — will run through Saturday, July 11.
To follow social distancing, the showcase isn't open to the public, but 4-H and FFA members have five tickets for family members to watch their shows.
Instead of housing livestock in barns during a fair, members instead have to bring their animals to the fairgrounds to compete and leave the same day.
Maggie Robinson of Norfolk said this is actually easier than staying on the fairgrounds for multiple days during a regular county fair. The horses she shows tend to not like staying in the stalls, she said.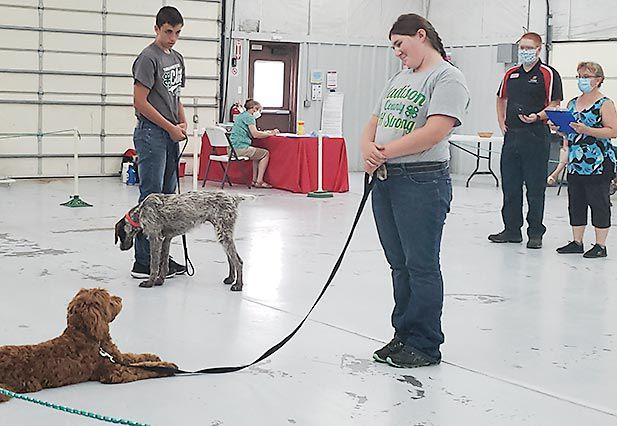 Robinson has been in 4-H for four years. She showed her dog, Riley, during Monday's dog show and won first place in the showmanship category.
Instead of an outdoors competition, the dog, cat and companion animal shows took place in one of the fairgrounds' buildings. The dog show had a modified arena and agility course.
Chairs for family members were spaced 6 feet apart, and hand sanitizer stations were available. Each visitor had to report that they were symptom-free before coming to the fairgrounds. Most event organizers wore masks, and masks were available to participants and their families but not required.
Robinson's mother, Julie, said she was grateful the showcase was still hosted for 4-H and FFA members. Maggie had to compete virtually for the Nebraska State Fair horse exposition, but she will be able to compete in person at the county showcase.
"It's all of the same work; it's just different," Julie Robinson said. "For the horses, we prepare all year, pretty much every day. She's out there four days a week. When they canceled the state 4-H show, we were pretty worried that the county 4-H show was going to get canceled, too."
Mercedes Barg of Madison said it would've been heartbreaking if she wasn't able to submit several pieces of artwork she's been creating all year for the showcase. At 19 years old, it's also her last year in 4-H.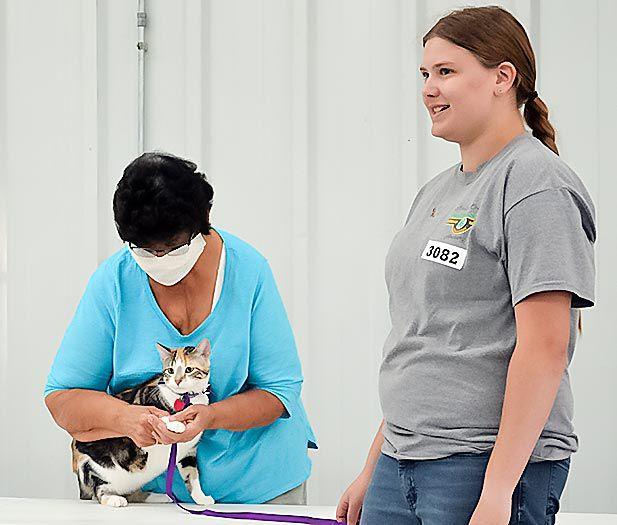 Barg starts making pieces for the following summer right after each county fair. This year she worked on her hand embroidery between remote learning and three jobs, sometimes even late into the night, she said.
Barg entered 14 pieces, including hand embroidery, welded horseshoes, a quilt and a terrarium. She also showed her two cats, Mini and Patches, in the cat exhibition on Monday.
"It's disappointing because I wanted to have some of my family members come down and see my projects, but most of them are in the risk age group for COVID-19," Barg said. "There was a lot of talk about not having a fair, so it was a last-minute deal of just seeing who can just get at least one project turned in."
Dylan Luetkenhaus of Lindsay also spent a lot of time preparing to show three market hogs, two sheep and one bucket calf in this week's showcase. He would spend one to two hours daily working with his animals, especially in the past several weeks, he said.
Luetkenhaus said he's nervous about this week's showcase because livestock can become antsy in the arena when they aren't familiar with their surroundings.
"Some people have been saying they aren't going to show this year, but a lot of my friends are still showing," Luetkenhaus said.
While static exhibits were down in numbers, livestock entries were about the same for this year, Polacek said. But she's grateful the hardest part — deciding to move forward with the showcase and organizing it — is over.
"Everyone has been amazing and stepping up and volunteering," Polacek said. "It's going amazingly well. We weren't able to put concrete plans together until the beginning of June, so it came together really quickly. I'm very excited that it came together."