Homelessness can be as little as one missed paycheck away.
The COVID-19 pandemic forced many to face that stark reality earlier this year as businesses deemed "non-essential" followed mandates to shut down or limit how they functioned.
Organizers of Project Homeless Connect in Norfolk are aware of the lingering effect that coronavirus has had on the living situations of some residents of the area. That's why they are anticipating a larger turnout for their upcoming annual service day.
"Realistically, anybody can be one paycheck away from being homeless, one paycheck away from not being able to pay their mortgage, not being able to pay their rent," said Lacy Kimes, chairwoman for Project Homeless Connect-Norfolk. "The pandemic has had that effect."
The project's annual event provides those struggling with homelessness with an opportunity to access a variety of services, including a hot meal, a haircut, medical testing, case management, employment readiness, legal counsel, vision services, Medicaid and economic assistance and immigration services.
Kimes said homelessness in Northeast Nebraska is a serious issue, but it doesn't always reflect the image most envision in their mind.
"Most people in their mind when you say homeless person think of somebody sleeping on the bench in the park," Kimes said. "As human service providers working with folks that are lower income, we know the word homeless has a different definition in every community."
In the Norfolk area, homeless could mean sleeping on a park bench, but more often than not, it is someone who "couch surfs" at the homes of various people because they don't have a permanent place to rest their head every night.
"Because we know that, that's how we determine what service providers we want on-site that day," Kimes said. "We look at what our biggest needs are and bring those services to help meet that need."
This will be the fourth consecutive year for Project Homeless Connect in Norfolk. The numbers of those who seek help are stored in a database each year, which aids organizers in planning for the number of service providers that may be needed the next year.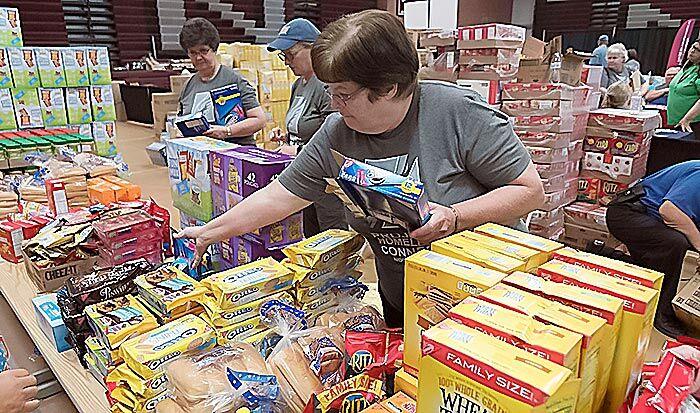 Kimes said organizers are preparing to see about 500 people during the five-hour event this year, an increase of 100 over last year.
"Last year, we served about 400 guests," she said. "We anticipate a larger crowd this year due to the pandemic. Unfortunately, the pandemic has been a financial burden on a lot of people locally."
Organizers anticipate they will serve a variety of ages, as well. In past years, infants, the elderly and every age group in between received services during the Project Homeless Connect event.
The event is set to take place Friday, Oct. 9, from 10 a.m. until 3 p.m. at Our Savior Lutheran Church, 2420 W. Omaha Ave. in Norfolk. Free daycare also will be provided on-site for those who are seeking help.
Free transportation will be provided to and from the venue by the Ponca Express; pick-up locations are Fifth Street at Central Park, the Norfolk Rescue Mission and Time Square Plaza (behind Harbor Freight).
Kimes said organizers were required to submit an event safety plan with the Elkhorn Logan Valley Public Health Department to comply with COVID-19 measures, but with the exception of screenings at the door and volunteers wearing masks, the event won't look or function much different from past years.
Every guest will be assigned to a trained volunteer navigator who will help them identify their primary needs and what they want to get accomplished, Kimes said.
"That navigator walks with them through the entire event," Kimes said. "Also before they leave, they make sure they have a plan of action in place before they exit."
Kimes said there is a dire need for more volunteers to make the day run smoothly. Those interested in volunteering are invited to click the "Volunteer" tab on the Project Homeless Connect-Norfolk website. Volunteers are not required to have any experience working in the human service field. They will have an opportunity to go through training before the event, she said.
"If you have a heart to help, if you really want to do something hands-on for our community, we encourage anybody to volunteer," Kimes said. "We really encourage people that maybe have never experienced working in human services or working with folks that are in poverty to come volunteer. It really is an eye-opening, humbling experience."