Norfolk Public Schools won't be transitioning to hybrid learning if the public health district's COVID-19 risk level increases — at least for now.
The NPS board of education approved a motion for its Return to School COVID-19 Committee to reevaluate the back-to-school plan, especially regarding the transition to hybrid learning if the orange risk level is reached.
The board also suspended any move to the district's orange level scenario of hybrid learning until it hears feedback from the committee, even if the public health department COVID-19 risk increases.
The Elkhorn Logan Valley Public Health District's (ELVPHD) latest update showed the risk dial almost in the orange "elevated" level for the entire district, a 1.84 on a four-point scale. Madison County's risk dial is also close to the orange level at 1.81.
If the dial reaches orange or 2, NPS would transition to hybrid learning. The district is now in the yellow risk level, which is in-person instruction with many restrictions and guidelines, including mask requirements.
Until the return to school committee provides the board feedback about any plan recommendations, NPS will stay in the yellow risk level, even if the ELVPHD dial changes.
Superintendent Jami Jo Thompson said she agrees with the board's decision, especially because the district's COVID case count is low and has been decreasing since the NPS mask mandate.
"I do feel safe at this point in postponing going to orange, even if the dial goes that way. Any person who has COVID is a concern, but at this point, there is one staff member and one student districtwide that are positive for COVID," she said.
Thompson sent a letter to parents Friday reminding them of the NPS operations plan to prepare them for the possibility of hybrid learning because of the ELVPHD risk dial.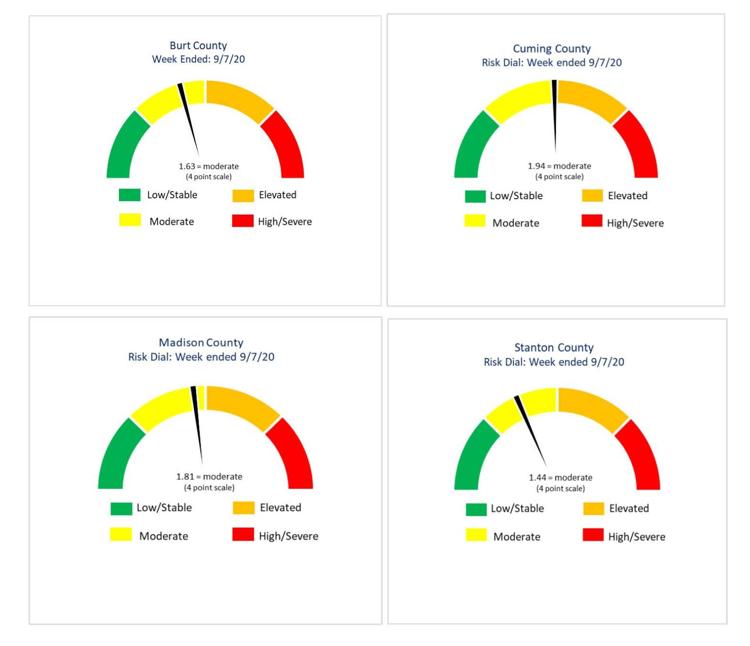 The district's hybrid learning model splits students into either group A or group B, and the two groups switch between remote learning and on-site instruction, with Wednesday being a day all students complete remote learning.
Thompson included an example in Friday's letter of what a week of hybrid learning would look like:
— Monday: Group A: On-site instruction, Group B: Remote-learning
— Tuesday: Group A: Remote learning, Group B: On-site instruction
— Wednesday: All students complete remote learning
— Thursday: Group A: On-site instruction, Group B: Remote-learning
— Friday: Group A: Remote learning, Group B: On-site instruction
For instance, if ELVPHD were to release an update Wednesday with a risk dial change, the district would transition to the hybrid model by the following Monday to give parents time to find alternative supervision, according to the NPS website.
But during Monday night's board meeting, board member Tammy Day said administrators received many concerned emails from parents after Thompson's letter. Several parents and teachers also showed up at the meeting to voice their concerns or support of the district's plan.
One recommendation from a few parents and teachers was that the board shouldn't use the ELVPHD risk dial but instead evaluate COVID-19 risk by building.
Beth Schoenherr, a teacher at Grant Elementary, supported a review of the back-to-school plan because COVID-19 factors have changed since it was created in July, she said.
She also asked the board to consider implementing hybrid learning by building depending on its risk level, similar to when Lincoln Montessori Elementary closed its building on Aug. 27 after a third of its staff tested positive.
The hybrid model could be used in buildings that have higher positive cases or exposures, rather than being used at buildings without them.
Another concern presented to the board was about child supervision during the hybrid learning model. Some children would end up at home alone or switching between daycare and school every week.
"Are (NPS students) safer at home, unsupervised, where a 9-year-old is raising a 5-year-old and a 3-year-old because Mom has to work two jobs?" said Abe Schoenherr, an NPS parent. "Those kids that have been already left behind in March? We're just going to make it worse. My kid is going to be fine. But there are too many kids who don't have a support system at home."
Kelli Berryman, a special education teacher at Norfolk Junior High, was in support of the district's original plan as it also protects the staff's safety along with students, she said.
"I myself am a severely immunocompromised person; I have type 1 diabetes," she said. "But these are adults and staff we are also talking about. One of the reasons Montessori did have to close down was not because of the kids, it was the staff."
Kimberly Erickson, president of the Norfolk City Education Association, said the organization's officers also support the original fall operations plan because 100% social distancing is impossible for the majority of the district, especially the middle school, junior high and high school.
"Having only half of our students at a time, while not normal, could prevent and provide more distancing, especially as the numbers are rising in our area," she said.
Sarah Pinkelman, a mother of four NPS students, said she recently experienced what remote learning would look like as part of the district's hybrid model. Three of her children attend Lincoln Montessori and had to learn remotely while the building was closed.
Pinkelman said she supported the board's decision to review the back-to-school plan. The difference of how much her Montessori children learned versus her high school student who went to in-person classes "was incredible," she said.
"The virtual learning was the absolute best it could be and the teachers were fully supportive, but I am not a teacher," she said. "I program computers. I can't teach them phonics. And when (her son) Adam has to do some crazy fourth grade Montessori job, I'm not familiar with that. So we do our very best. They lost on concepts they should've learned, and they will continue to do that if we move to hybrid."