BATTLE CREEK — As of 2:15 p.m., a house fire on the north end of Battle Creek was mostly contained, but still burning. The home is a total loss, said Battle Creek Rescue Capt. Michael Fleer. 
Fleer said firefighters arrived at 10:48 a.m. Thursday. Along with Battle Creek, there were firefighters from Norfolk and Meadow Grove.
At 1:45 p.m., the state fire marshal was on the scene and plans to investigate after the fire is extinguished, he said.
Fleer said it is believed that the fire started on the first floor and worked its way up to the second floor, but until the fire is out and investigated, it won't be known for certain.
The people living in the home were not present at the time of the fire. There were no injuries.
Black Hills Energy and Elkhorn Rural Public Power District also were assisting with utilities.
Updated 2:26 p.m., Jan. 14, 2021
---
Original story posted at 12:42 p.m.
BATTLE CREEK — Firefighters from at least three departments were battling a house fire Thursday in Battle Creek that seemed to be made worse from windy conditions.
Firefighters from Battle Creek, Norfolk and Meadow Grove could be seen over the noon hour battling the two-story house fire, with at least 15 firefighters visible. The call came in late Thursday morning.
At about 12:15 p.m., the flames became more noticeable when gusty north winds picked up. The upper level appears to be the most effected, especially on the south side of the house. About 12:45 p.m., the roof caved in.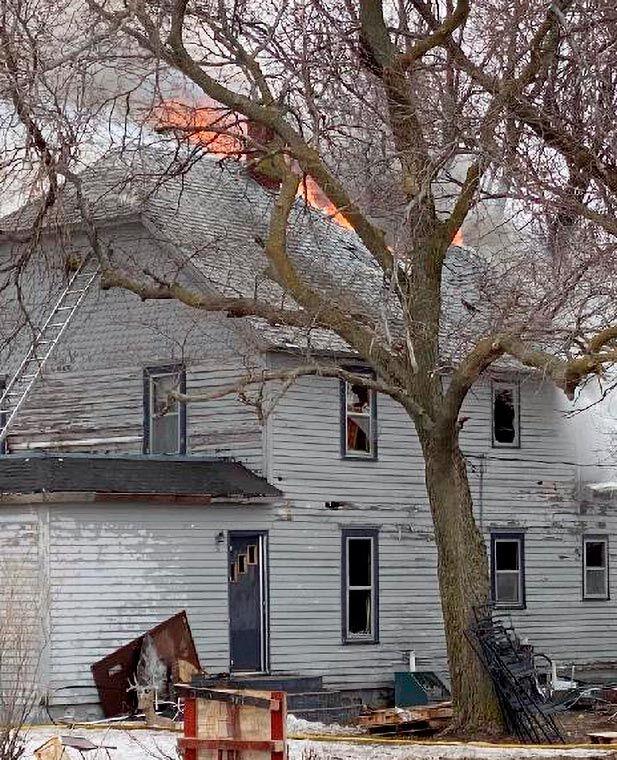 It didn't appear that anybody was in the home as there were no rescue efforts being made. Ladders to the second level appeared to be for hoses.
The residence is 54570 840th Road, which is on the north end of Battle Creek, near Producers Hybrids.
There are no hydrants near the house, with firefighters using trucks to bring in water. A Madison County Sheriff's deputy was on the scene controlling traffic.
Reports from the National Weather Service indicated that wind gusts were in excess of 30 mph from the north.