A major winter storm dropped more than a foot of snow on parts of Nebraska, disrupting traffic and shuttering some schools, while blanketing other parts of the middle of the country with snow that continued to fall Tuesday.
Norfolk schools and North Community College had late starts, and other schools in the area canceled classes. Many businesses and manufacturing plants opened late and canceled shifts.
All things considered, however, Madison County and much of Northeast and North Central Nebraska escaped the worst of Monday and Tuesday's snowstorm, which dumped nearly 15 inches of snow in Lincoln and was much heavier to the south.
Norfolk officially recorded 6.6 inches of snow before midnight, according to the National Weather Service. An estimated inch or two fell after midnight as light snow and flurries continued until about 4 a.m. Tuesday.
The Norfolk Police Division responded to three property damage accidents on Monday, but none of the accidents resulted in serious injuries, said Capt. Chad Reiman. The police division also assisted multiple motorists, but nothing addressed was a cause for concern, Reiman said.
The Nebraska State Patrol Troop B Office, based in Norfolk, did not respond to any serious weather-related accidents, said Lt. Jim Stover.
The state patrol did assist "quite a few" vehicles in ditches, Stover said, including a semi Tuesday morning along Highway 15 between Pilger and Wayne.
Stover said he was pleased with the steps that area citizens took to minimize the danger that Monday's storm presented.
"Northeast Nebraskans heeded the advice of the law enforcement agencies and the Nebraska Department of Transportation, and that was a big factor in the limited number of accidents," Stover said. "It was a pretty slow day on that front, but we like it that way."
Norfolk street crews could be seen working off and on Monday and Tuesday. Crews had most of the main streets plowed before the sun was rising on Tuesday.
Madison County Sheriff Todd Volk said throughout the snow events Monday and early Tuesday, the county had two minor accidents that were weather-related. There also were a couple of vehicles in the ditch that the county checked on, he said.
"For the most part, everybody slowed down and drove carefully," Volk said.
Stanton County Sheriff Mike Unger said his county fared well despite the snow and winds, which made travel treacherous at times.
"We were very blessed," Unger said. "I didn't see a lot of traffic out during the day. I think maybe a lot of people were spooked from the last one."
Unger said he and his department investigated one injury accident and "four or five" vehicles in the ditch during the storm.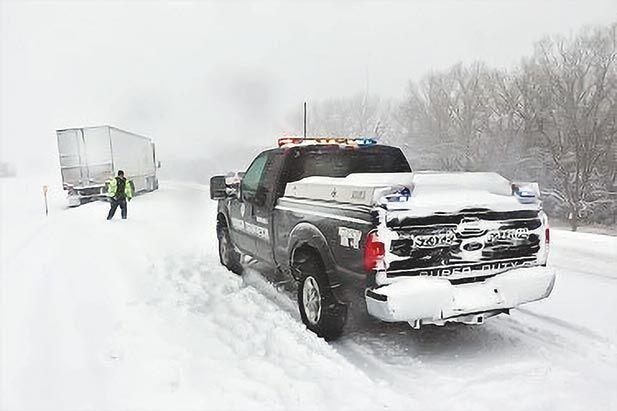 National Weather Service meteorologist Taylor Nicolaisen, who is based near Omaha, Nebraska, said it had been at least 15 years since parts of the state received more than a foot of snow in a single storm.
"This is historic snow," Nicolaisen said of the snow in the Lincoln and Omaha areas.
Omaha's highest one-day total for snowfall occurred Feb. 11, 1965, when the National Weather Service recorded 18.3 inches. The blizzard that hit on Jan. 10, 1975, produced 12.1 inches of snow in Omaha.
The highest snowfall totals from Monday's storm were recorded in Lancaster County, where Lincoln reported 14.5 inches at the airport. The record one-day total in Lincoln was 19 inches, also recorded on Feb. 11, 1965.
The Lancaster County towns of Hickman and Denton on Monday recorded 14 and 13.8 inches of snow, respectively.
In Johnson County in southeast Nebraska, the town of Sterling recorded 13.5 inches of snow. Gretna, in Sarpy County, recorded 10.5 inches of snow.
Temperatures in the area will remain low Tuesday and Wednesday, with highs at most spots in the upper teens or low 20s, according to the weather service forecast. The low temperature Tuesday is expected to drop to the single digits.
Wednesday night may be the coldest night of the week, with lows in the single digits, and possibly at or below zero at some spots.
Roughly 250 semi trucks waited out the storm at the Petro truck stop alongside Interstate 80 in York. Manager Rachael Adamson said she could see knee-high drifts and that sidewalks needed to be shoveled every half-hour.
"We haven't had this much snow in quite a few years," Adamson said.
As many schools closed as the storm moved across the Midwest, in western Iowa, Missouri Valley Superintendent Brent Hoesing reworked the lyrics of the 1970s hit "I Will Survive" to tell students in his district, "So Stay Inside."
Elsewhere in the country, a storm buried northern Arizona in snow on Monday while sending flurries to the outskirts of Las Vegas and Phoenix. And most of Nevada was bracing for another series of powerful winter storms that could bring several feet of snow to the mountains above Lake Tahoe by Thursday.
Preliminary snowfall reports from the latest storm included 14.2 inches at the Flagstaff airport and 16 inches at Payson between Sunday night and late Monday, the weather service said.
Editor's note: The World-Herald News Service and The Associated Press contributed to this story.