High school students across Northeast Nebraska are continuing their college or employment preparation through a program that allows them to take classes outside the typical school setting.
2020 marks the fifth year that the Pathways 2 Tomorrow (P2T) consortium has offered career and technical education (CTE) classes and the second year they have been held at the Northeast Community College extended campus in West Point, according to a media release.
P2T, facilitated through Educational Service Unit (ESU) 2, includes seven member schools: Bancroft-Rosalie, Emerson-Hubbard, Guardian Angels Central Catholic (West Point), Howells-Dodge, Lyons Decatur Northeast, Oakland-Craig and West Point-Beemer.
"Northeast Community College is pleased to continue to work closely with the school districts, ESU 2 and Wayne State College to bring this unique endeavor to high school students in east central Nebraska," said Carla Streff, director of Northeast's West Point extended campus and executive director of P2T. "P2T is designed to build a skilled workforce in the region through career and technical education. This has been a great partnership that brings employment preparation opportunities to students."
Streff said the emphasis on programming is placed on training and supplementing a skilled workforce that will serve businesses and industry in the region for generations to come.
"It's going really well," she said. "It is a privilege for the students to come and take part in P2T classes."
Streff assumed the P2T position from Joe Peitzmeier, who is now superintendent of Scribner-Snyder Community Schools. She said serving as both executive director of P2T and director of the Northeast extended campus helps to better align processes and coursework.
"Carla is the ideal person to lead the continued evolution of our partnership with ESU 2 and our regional school districts," said Leah Barrett, Northeast president. "Offering early college and career pathway courses is a primary means to meet our mission in the 20-county service area."
Streff works with Cheryl Kreikemeier, P2T instructor and the consortium's curriculum and apprenticeship specialist, who teaches courses in the education pathway for Wayne State in addition to conducting curriculum work for P2T.
In year five of P2T programming, enrollment continues to be strong. With 105 students enrolled this semester, dual credit numbers are higher compared to a year ago.
High school students have the option to enroll within five career pathways: building construction, computer sciences, education, health sciences and welding. Students also may enroll in classes to earn their Commercial Driving License (CDL). All the programs offered through P2T are aligned to ensure transferability to all Nebraska public post-secondary institutions.
Students enrolled in P2T classes leave their home district for a minimum of two hours every day.
"Health sciences is the most popular pathway with 57 students followed by the education pathway with 53 students enrolled," Streff said.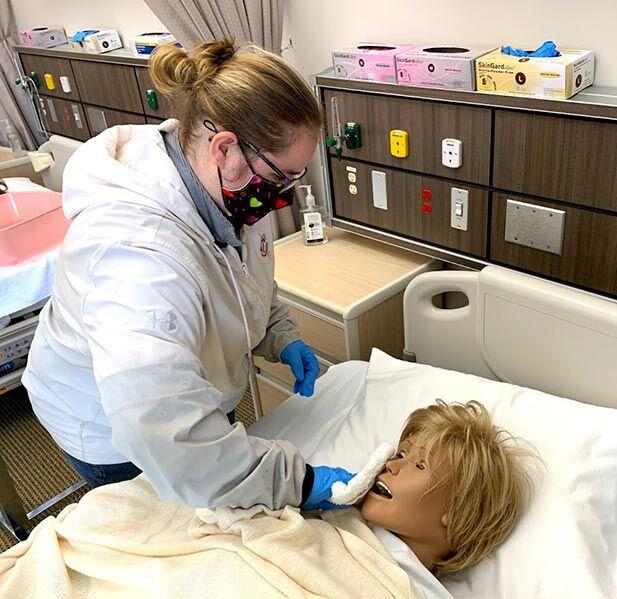 P2T is seeing strong interest from the area community. Streff said she continues to hear from a number of businesses in the area who have a need for qualified candidates to fill open employment positions.
"We go all over," Streff said. "I had one business ask me how they can help get people trained and interested in their field through job shadows and internships. It gets the students in these businesses to see what opportunities they may have and what they may like or don't like. Even with COVID, we've still have had a number of businesses say, 'Come on in, we're happy to open our doors to do job shadows or internships' to generate an interest."
The pandemic has presented new opportunities, but even without COVID-19, there have been challenges with class sizes. This is illustrated in two courses in particular — a psychology class that has 30 students and an introduction to education class with more than 20.
The college had to rent space to accommodate the numbers. Oversized classes are being held in the Nielsen Community Center, which is adjacent to the Northeast extended campus building and the nearby career and technical education center.
The school districts in the consortium put a high value on P2T programming, but one in particular has gone a step further.
Jon Cerny, Bancroft-Rosalie superintendent, said when his students don't have school on Fridays, they still send their students to P2T classes.
In addition, if the school's seniors are not enrolled in P2T classes, they also have an option to enroll in Northeast's Fridays @ Northeast or Wayne State College's Fridays @ Wayne programs, which also offer additional opportunities for students to earn college credit on the final day of the school week.
"P2T programs offer our students opportunities they can't get otherwise. Over half of our senior class is enrolled in a P2T program this year," Cerny said. "This data shows the importance of the P2T curriculum."
Ted DeTurk, ESU 2 administrator, said CTE programs offered through P2T are becoming increasingly important to high school students.
"Fiscally, P2T brings several schools together and shares the costs for supporting the identified pathways. The ability to partner with Northeast Community College and Wayne State College strengthens the P2T program and provides students with greater opportunities," DeTurk said. "Given the student interest and commitment of the schools, it appears P2T has a long future ahead."