Social distancing, cleaning and other operations might come a little easier to Norfolk's parochial schools as they begin the upcoming fall semester during a COVID-19 pandemic.
Accomplishing local health guidelines won't be as challenging with smaller student bodies and class sizes as the four schools are preparing for in-person instruction this week.
Similar to the public school district, Norfolk Catholic, Christ Lutheran, Lutheran High Northeast and St. Paul's Lutheran School will be using recommendations from the Elkhorn Logan Valley Public Health Department (ELVPHD) as students are welcomed back into the classroom.
"We're going all-in right away on safety, so we can start as safe as we possibly can and ease up as it goes," said Drew Urban, principal at Christ Lutheran. "We don't want to suddenly have a bunch of kids and teachers get sick and have to close down. We're pretty optimistic, and staff are pretty happy about the plan."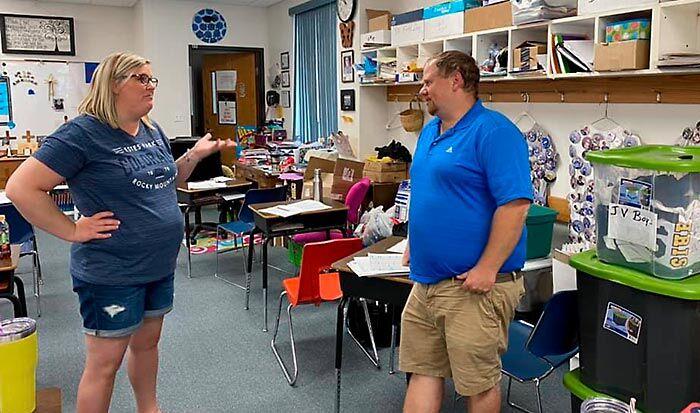 All of the parochial schools have chosen to social distance as much as possible in their back-to-school plan documents.
Norfolk Catholic will implement distancing of 3-6 feet between students in its elementary and high school, according to its plan.
Social distancing is mostly achievable at Christ Lutheran because of its class sizes, Urban said. Only three grades have more than 20 students in them, and because of the higher number, they will use desk dividers while desks are distanced from each other.
But even social distancing with 20 students in a classroom can be tough if the rooms aren't large enough, said Aaron Markgraf, principal at St. Paul's. A key to staying safe in smaller groups is to wear a mask.
"(Masks) was something our faculty wrestled with a lot, but everyone agreed if you're in close quarters with someone, you should really have a mask on," Markgraf said.
As of right now, Norfolk Catholic is the only school in Norfolk — including Norfolk Public Schools — requiring a face mask for staff and students when school begins Wednesday, said Amy Wattier, high school principal. Mask breaks will be built in throughout the day.
St. Paul's and Christ Lutheran deem masks optional for students and staff except in certain circumstances when students are close together or intermix, such as recess; arrival and dismissal; going to the bathroom; small group sessions and more, depending on the school.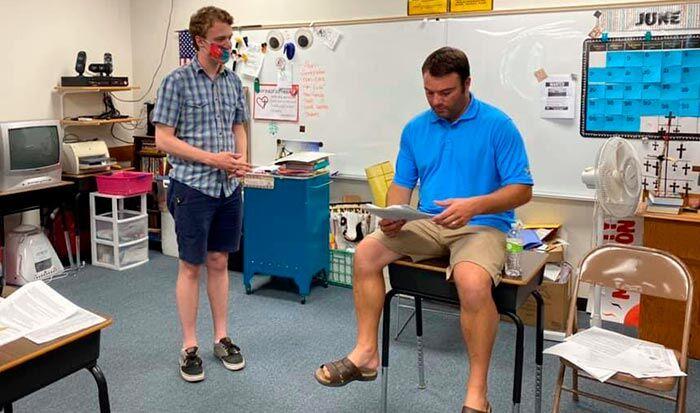 Lutheran High Northeast won't require masks for staff or students until the COVID-19 risk level enters the red "severe" level, according to its plan document. The school will require masks to be worn if social distancing can't be accomplished in the orange "elevated" risk level, and it recommends face masks at all other times.
Face masks also will be provided to students at Christ Lutheran. At St. Paul's and Norfolk Catholic, students will be asked to bring their own mask from home, but the schools will have some on hand in case students forgot their own or don't have one.
"We understand that wearing face coverings, for even a limited time during the school day, is a controversial topic amongst families," said Bill Lafleur, Norfolk Catholic elementary principal. "We believe face coverings are a necessary step that supports our ability to bring our students back together on campus ... protecting our friends, teachers, parents and our entire community."
All four schools will switch to remote learning if the COVID-19 risk level is deemed severe by ELVPHD. All of them also will have a remote learning option if a student is immunocomprimised
"Any student with conditions should not be denied this opportunity," Wattier said of Norfolk Catholic High School. "Our teachers will be working overtime to become more and more diverse in their instruction. Two weeks ago, I surveyed the junior high and high school staff and most indicated that they were prepared for some type or degree of remote learning for their students."
No one has requested this so far at Lutheran High Northeast, said Dan Sievert, school principal. There also haven't been many requests at the other parochial schools.
At Christ Lutheran, only one family has requested to stay home and the family will receive remote instruction, Urban said.
"I feel like our parents, they want to get their kids in the building, that's our goal," Urban said. "Most of our parents work, but it is an option. Some parents might get uneasy going back during these times, so we still want them to a part of the school and then they can come back down the road."
While guidelines vary by each parochial school, administrators have been sharing similar concerns and apprehension about what the upcoming school year might bring. Lutheran High Northeast and Norfolk Catholic begin school Wednesday, while Christ Lutheran starts Thursday and St. Paul's on Wednesday, Aug. 19.
"This has been the most trying process on my patience. Many days, it may seem as if we meet and discuss and then have to circle back to do it all over again," Wattier said. "Students are excited for the most part to get back to school. Their minds are yearning to grow and to be challenged. There will be constant obstacles, but we are determined to do our best to offer an in-person education as often as possible."