The Norfolk Rescue Mission celebrated its 25th year in operation by hosting a fundraising banquet at the Midtown Event Center on Thursday.
Guests enjoyed a meal of brisket, chicken with onions and peppers, green beans and rolls as a band from Northern Heights Baptist Church sang hymns and contemporary worship songs in English and Spanish. During a time of mingling, attendees could participate in a silent auction featuring items such as a Downtown Coffee Co. gift card, 12-month Anytime Fitness membership and even a carved eagle yard decoration.
The crowd settled once the Rev. Will Perrigan, the executive director of the mission, hopped on stage to give a few remarks. He briefly explained the mission's history, including its guidelines for guests and how the mission neither provides financial aid nor accepts federal funds to keep its doors open.
The mission's purpose, he said, is to help people in need get back on their feet through biblical and practical training.
"We are committed to doing what is right according to Scripture," Perrigan said.
One of the ways in which they do that is through the overnight guest program, which supports those in need as long as they find a job that is "life-supporting" within a certain time frame.
"We believe in the responsibility and accountability of our guests," he said.
The mission stayed open and staffed through the entirety of the pandemic, serving as a beacon for those needing help in a time of national distress. For the staff and the community, shutting down just was not an option.
"You can't send the homeless home and say we're closed," Perrigan said. "This is their home."
From the stage he recognized several volunteers and staff members for exceptional work and years of service. Once that concluded, he welcomed keynote speaker Manny Mill, the chief executive officer of Koinonia House National Ministries, an "educational and training organization dedicated to equipping churches for post-prison ministry," according to its website.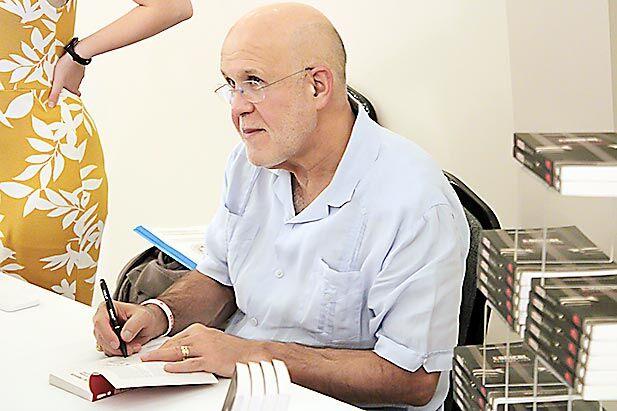 Mill, originally from Cuba, adopted the Christian faith while on the run from the FBI in Caracas, Venezuela. This new mindset helped him find a new purpose in life; while serving his prison sentence, he enrolled in an inmate educational program at Wheaton College. Now graduated and based in Chicago, he travels around the country training churches in how they can best serve the incarcerated and "unite the inmate and Christian community."
Onstage he gave a sermon on prayer and how Christians can use it as not only a tool, but as an essential function of a healthy spiritual relationship. Prayer has the power to instill hope, which Mill describes as an acronym of "Helping Others Pursue Eternity," in even the worst situations — something he knows firsthand.
"There was a time when I was hopeless, but Jesus Christ rescued me," he said.
Mill said that before his conversion, he was ruled by the "human trinity — me, myself and I" but has since used his new faith to radically change his life.
"I came back, went to prison and I lost everything," he said. "But I found Christ."
Mill wrote two books about his experiences and conversion, "Radical Prayer" and "Radical Redemption," both of which were for sale at the banquet. All proceeds from the book sales went to the fundraising effort, boosted by an opening at the end of his sermon when he asked attendees to donate to the Norfolk Rescue Mission.
At each place at the tables was a yellow envelope in which guests could slip cash or checks in addition to a QR code for online giving. Once completed, guests dropped their envelopes into a basket at the front of the room.
During the time of giving, Perrigan took the stage to announce that three local businessmen, who wished to remain anonymous, pledged to match $26,000 of donations raised that night as a show of community support. He referred back to a question commonly asked back at the mission's founding in 1996 of whether Norfolk was even big enough to warrant a rescue group — but there is need not only in big cities, he said, but in every community.
"We wondered if a small town this size would support a rescue mission," he said. "And look around — your presence here testifies that you care."