The director of human resources and accreditation for Norfolk Public Schools will be moving to Palmyra-Bennet Public Schools as its new superintendent.
Michael Hart will complete the 2019-20 school year with NPS and will assume his new role at PBPS on July 1, according to a NPS media release.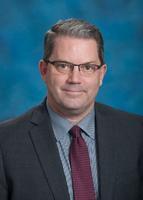 "We will miss Mr. Hart's leadership in this district and appreciate his service over the years, but we wish him the very best in his new role," Superintendent Dr. Jami Jo Thompson said. "He has earned this opportunity, and I am sure that he will be an asset to the Palmyra-Bennet school district and communities."
Hart's resignation will be presented to the Norfolk Public Schools board of education for formal approval at its meeting Thursday, Jan. 23, Thompson told district staff in an email Monday.
Upon approval, the school district will begin a search for a new director of human resources and accreditation to fill the vacancy for the next school year.
Hart has been a staff member of the NPS school district for almost 20 years in several different positions, according to the release. That includes many years at Norfolk Junior High as assistant principal. 
"It has been an absolute honor to serve this district, our students and staff and this community," Hart said. "My family and I will remain forever grateful for the opportunities, friendships and the support we have experienced during our time here. Norfolk is an amazing place where 'Nothing Prevents Success,' and I have been extremely fortunate to see that philosophy in action during my tenure. I am excited about this opportunity and look forward to this new chapter in my life."