Just a few years ago, Melissa West and Allison Uecker both experienced every parent's worst nightmare: the loss of a child. 
Following the death of their sons to Sudden Infant Death Syndrome, West and Uecker co-founded the Briggs & Barrett Project, which provides support, education and resources to Norfolk-area families.
"(We) had to let others know they are not alone," Uecker said.
Last year, the project launched the Baby Crashers program, which gives nominated families child care essentials.
Now, with help from sponsors Premier Marketing and Raising Cane's, the Briggs & Barrett Project is holding a diaper drive. All of the collected diapers will be given to future Baby Crashers recipients.
Earlier this week, West and Uecker bought their first round of diapers with money collected from friends, coworkers, family and supporters of the Briggs & Barrett Project.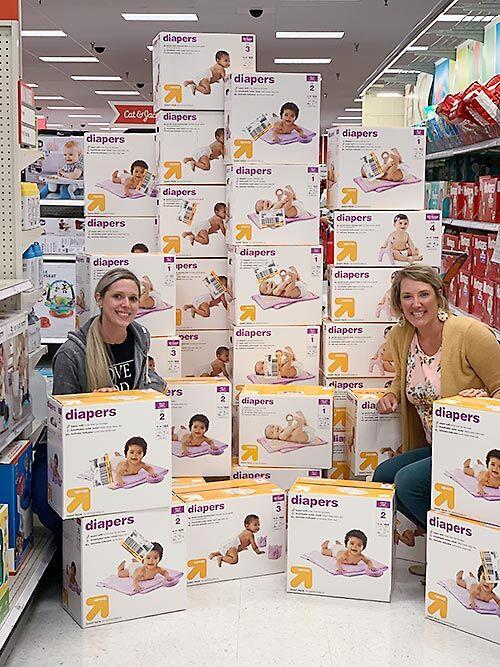 "It was unbelievable; we sold a Target out of their Target brand diapers," West said. "We will be going again Friday night to buy our second round of diapers from additional funds that have been donated this week toward the drive."
Those interested in donating may drop off diapers at the giant crib parked at Premier (705 W. Benjamin Ave.) through Friday and then near Raising Cane's (1150 S. 13th St.) on Saturday or make a 15% purchase donation by mentioning the Briggs & Barrett Project when placing an order. The drive runs through Saturday, Sept. 12.
The first Baby Crashers recipient, Alyssa Conyers, said the support was invaluable.
The family was nominated by friends and family after their hard times of infertility, stillbirth and miscarriage. Last December, Baby Crashers were sent out to surprise the family with baby items for their unborn baby that would be arriving soon.
"The anxiety of being pregnant after having lost two babies is so high, you're constantly thinking of all possible outcomes," Conyers said. "… There are not enough words to express how grateful we are."