Guests can embark on an Atlantic cruise with the members of the Norfolk Community Theatre as they present the Tony Award-winning musical "Anything Goes" starting Thursday, Dec. 2, at the Cox Activities Center at Northeast Community College.
"Anything Goes" will be the last show of 2021 and the only musical of the season. It follows the plight of star-crossed lovers Billy, a stowaway, and Hope, an heiress, as they interact with gangsters, Wall Street brokers, British socialites and even former evangelists-turned-nightclub singers aboard a 1920s ocean liner sailing from New York to London. Through strong wit, grit and determination — as well as the occasional well-timed musical number — the friends, enemies and passersby race against time and circumstance to see if love truly does conquer all.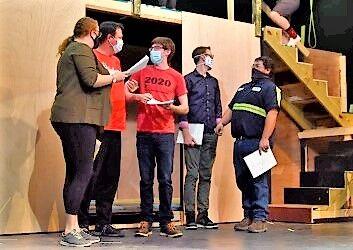 The show has been famously edited for the stage for each of its revivals on Broadway and the West End as well as for two movies. Norfolk Community Theatre will follow the 1962 version to include new songs and different character development that might differ from the 2011 edition that most theatergoers might know, said group president Libby McKay.
"It's a well-known show, so we wanted to offer a different version that people weren't familiar with and make it our own in that way," she said.
"Anything Goes" is a popular show for school and community productions because of the large cast, fun costumes and humor. Its popularity increased thanks to stars like Frank Sinatra and Rosemary Clooney performing some of its songs when it debuted in 1934, but McKay thought it stayed so popular because of the characters' relatability and heartfelt storyline.
"It's a story lots of people identify with," she said. "There's always that one we fall in love with and chase to try and reel back in."
McKay described the show as a "Shakespearean comedy" with "farcical antics" that has already provided the cast and crew with fun memories and forced them outside of their comfort zones. "Anything Goes" is the first musical in several seasons, which meant extra time and space had to be allotted for instrumentalists and choreography.
A live six-piece band will accompany the show, featuring local musicians and two students from Norfolk High School. Instruments played include guitar, percussion, piano and the saxophone, adding to the Jazz Age context of the show. 
Another symbol of the times is the main set piece. Since the show takes place mainly on a ship, set designer Josh Rajaee modeled the cruise ship in the art deco style of the era's White Star Line, which, coincidentally, operated the ill-fated Titanic. Several set pieces were recycled from the group's last production, "Noises Off," allowing a creative way to reduce waste.
"It was a fun, big set to go along with the fun, big music and fun, big cast," McKay said. "It was cool to find areas of opportunities to be green and reuse and recycle."
Putting on a musical after a series of plays could be intimidating, but McKay embraces the change with open arms. She hopes guests can come to the show and laugh away the evening and worries of everyday life.
"Our goal for this season was to get out and have fun and get people laughing and enjoying themselves," she said. "It's been a long, long two years. We want people to come out, have a good time and let the laughter be a catharsis for them."
"Anything Goes" will run the weekends of Dec. 2-4 and 9-11 at 7:30 p.m. with an additional performance Sunday, Dec. 5, at 1:30 p.m.