One would have to say that Nicole Brungardt's journey to the verge of qualifying for the U.S. Olympic women's bobsled team qualifies as an unlikely one.
During her years at Norfolk Catholic High School and then at Wayne State College, Brungardt made a name for herself on the track and the volleyball court. She won seven state championship track and field medals while at Norfolk Catholic, was an all-American in track and field at Wayne State and also was a member of the volleyball team for both schools.
So what inspired Brungardt to transition from volleyball and track to bobsledding? Simply put, something she heard on the radio.
"I was listening to a Christian radio station and I heard the story of Vonetta Flowers, who was an Olympic track athlete who went on to win gold in bobsled," Brungardt said. "It got me interested in learning just how to get involved in bobsled because they talked about the qualities of a short sprinter is what a bobsledder needs. I later looked bobsled up and found out they have combines every summer to see if you have what it takes."
Thus began her journey from Nebraska cornfields to Olympic glory.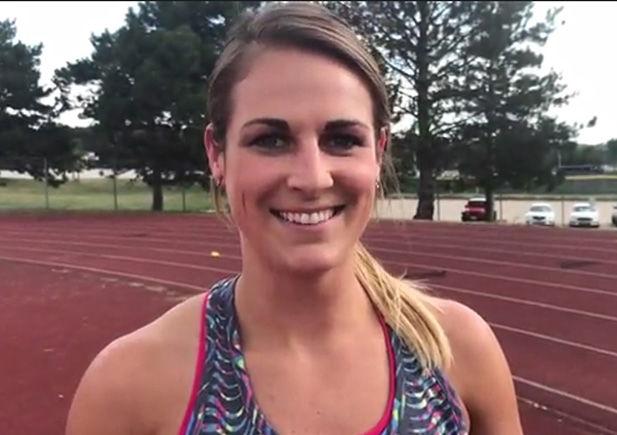 Brungardt's trainer in Omaha — where she now lives — is former Nebraska Cornhusker football player Lornell McPherson, who she works out with 3-4 times a week in addition to doing cardio workouts on her own.
Brungardt and McPherson do a lot of track and speed work, plus what's known as explosion work. They also concentrate on weightlifting, running stairs, boxing and yoga.
She also has been mentored by a former University of Nebraska football player, Curt Tomasevicz, who himself made the transition to bobsledding after college and represented the U.S. in the Winter Olympic games.
"Over the last five months, I can't tell you how many times people say, 'I didn't know you were into bobsledding,' " Brungardt said, "and I get to reply 'I've never been in one!' I also get asked regularly if I know Curt Tomasevicz. He has been extremely helpful and a mentor for me through this process."
Brungardt's first hurdle to Olympic participation came when she successfully completed strength and speed testing at Utah Olympic Park, earning the right to engage in more testing and training at a rookie camp in August at Lake Placid, N.Y. — the site of the 1980 Winter Olympics.
"Going to Utah with my dad for the first combine was a trip I'll never forget," Brungardt said. "We both hadn't been to Utah and had a lot of fun exploring and finding out I scored high enough to make it to the second round."
Brungardt comes from an athletic family. Her father, Tim, and brother Mark both played football for the University of Nebraska.
Brungardt's subsequent journey to Lake Placid was another success — not to mention an all-around memorable experience.
"Lake Placid was also a week I will never forget," Brungardt said. "It was pretty surreal walking around with Olympic athletes all day."
Brungardt placed second in the push competition at Lake Placid, and will be headed back to Lake Placid in October to spend the entire month learning how to push on ice.
"The rookie camp went pretty well," Brungardt said. "There were nine girls who qualified ... and we spent a week in Lake Placid learning how to push a bobsled on wheels and testing out in squat and power clean. At the end of the week, we had a push competition for time and the top three times get invited to the next round."
Even if Brungardt does not qualify for the 2018 U.S. Olympic team, she is considered a strong contender for the 2022 Olympic team — not bad for a relative newcomer to the sport.
Regardless of how her Olympic journey ends, it has been a memorable experience for Brungardt.
"I have been extremely humbled by all the support and enthusiasm I have received on my journey," Brungardt said. "Never in a million years would I expect all the love I have received. It's been a ride I will never forget."