At halftime of last week's Nebraska football game, I got a text from my uncle.
"This looks like our football team," he sent.
If that was indeed the case, someone should have filed a missing person report with the police after what happened in the second half and overtime. How else can you explain that game?
Nebraska had so thoroughly dominated for 30 minutes, yet it was so thoroughly dominated itself in the final 30 minutes and overtime against a Colorado team that had a first-time head coach, resulting in Nebraska's 17-0 halftime lead turning into a 34-31 loss.
Some say it comes back directly to coach Scott Frost and his staff. I can't disagree.
For as much as he, and the entire coaching staff, have talked about having no "fear of failure," they appeared to call plays, especially early in the second half, as if they were paralyzed by fear to fail, or in this case, play not to lose rather than playing to win. Several other writers have pointed out that the Huskers once again showed they lack a "killer instinct" mentality. There is no arguing that.
Maybe it was just his play-calling sheet from the first half that went missing.
Or maybe it was the same thing Nebraska has been missing for the last last four-plus seasons, ever since Shawn Eichorst booted Bo Pelini despite Pelini's teams having a penchant for winning close games. Yes, there were plenty of those backyard woodshed beatings, but it seemed every time Nebraska was within a touchdown, it found a way to win. Nebraska knew how to win a football game.
Then came along Mike Riley, and his teams' penchant of snatching defeat from the jaws of victory. Those close games that were wins under Pelini — and, for that matter, Frank Solich, Tom Osborne and Bob Devaney, and heck, even Bill Callahan — suddenly became inexplicably expletive-sparking losses. In three seasons, Nebraska somehow forgot what it knew for four decades — how to win football games.
You can't rebuild that overnight. Saturday's collapse was a humbling reminder of that.
Perhaps there's no reason for the missing person report after all. The Huskers have everything they've always had, even their inability to finish.
The question then becomes this: When will it change? The short answer is we don't know.
It's a good thing many — and I'm guessing the majority of them — fans are patient. That much is certain after seeing how fans painted Colorado's stadium red. Ironically, the Spanish word "colorado" means "colored red." Not every place gives that kind of support. Look at UCLA, where, according to reports, the school was giving away four free tickets to all of its season-ticket holders in advance of this weekend's game against No. 4-ranked Oklahoma.
But for as beautiful as Folsom Field was colored in the stands, the color of the on-field product was just the latest heartbreaking, expletive-inducing result.
However, maybe it's time to tone down the talk about expletives and heartbreak. Here's why.
Each of Nebraska's last five coaches (this includes guys named Callahan and Riley) led teams that won at least eight games in year two. A nine-win season, which is still entirely possible, would tie for the second-largest improvement from one year to the next in school history.
So maybe nothing is missing after all — and the Huskers are right on schedule.
Fortunately for me, my pigskin picks didn't spark quite such unpleasant reactions.
Records: 7-3 last week, 13-7 season, .650 winning percentage.
How city teams fared: If it weren't for Lutheran High's 55-22 thrashing of Winnebago (68-26 predicted), city teams would be winless through two weeks of the season. Norfolk Catholic led for, get this, more than 38½ minutes against David City Aquinas (20-16 predicted) before the host Monarchs rallied in the final 90 seconds (14-3 final). In contrast, Norfolk High (17-14 predicted) never led in a loss to Elkhorn (23-14 final).
Highlights: I had one game predicted to finish with a 23-14 final, but that score ended up being the final in the Elkhorn at Norfolk game instead of Hartington Cedar Catholic at Oakland-Craig (50-13 final).
Lowlights: After what happened Saturday (Nebraska 34-28 predicted, Colorado 34-31 final), you're looking for another lowlight?
Other results (predictions in parentheses): Howells-Dodge 40, Guardian Angels Central Catholic 6 (32-28); Bloomfield 56, O'Neill St. Mary's 26 (44-24); Winona State 37, Wayne State 20 (27-17); Kansas City 40, Jacksonville 26 (37-20); Minnesota 28, Atlanta 12 (21-19).
Disclaimer: It was the second week of the season and first for the NFL. We still don't know how good some of these teams really are, especially with one week in the books for the pro league.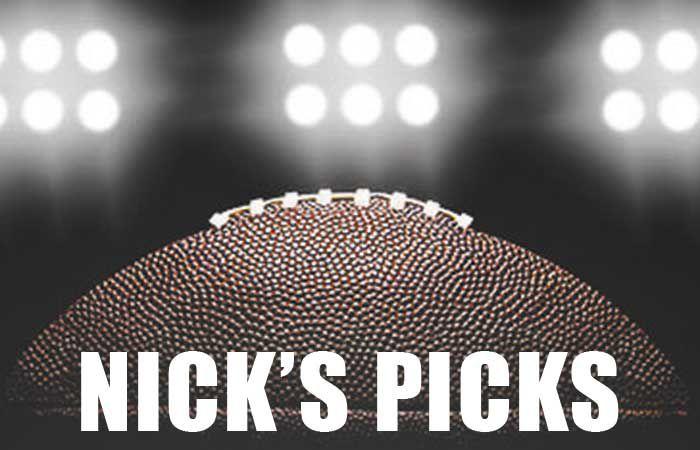 Kearney at Norfolk: The Panthers need a victory to avoid a troubling trend. Last year, Norfolk lost three straight after winning its opener, and in 2017, it opened 0-3. The Panthers have not had three straight seasons each with 0-3 stretches or worse since 2011-13. Kearney 28, Norfolk 19.
Class C No. 6 Norfolk Catholic at St. Paul: The "Tour of Statewide Ranked Teams" continues for the Knights, who have faced Class C No. 1 Pierce, current statewide C2 No. 3 David City Aquinas and this week's second-ranked team in C2, the Wildcats. Have the Knights learned enough to take home a signature win? St. Paul 29, Norfolk Catholic 20.
Omaha Nation at Class D No. 2 Lutheran High Northeast: The Chiefs surrendered 90 points in their season opener, which makes one wonder if the Eagles could hit 100. If they tried to do that, they might be able to, but my guess is coach Darin Suckstorf won't even try that. I'll stick with averages from the Chiefs' first two games. Lutheran High 74, Omaha Nation 14.
Class D No. 4 Wakefield at No. 3 Howells-Dodge: This is already the third time this season I'm making a prediction on a game involving the Jaguars, which should tell you about the kind of schedule they've had so far this season. On the other hand, the Trojans had a week off after a big win over Creighton. Expect this to come down to the fourth quarter. Howells-Dodge 26, Wakefield 20.
Class C No. 4 North Bend Central at Stanton: The Mustangs rebounded nicely after an opening-week loss with a tough triumph at Tekamah-Herman, while North Bend has averaged 33 points in a pair of victories to open the season. North Bend 30, Stanton 19.
Northern Illinois at Nebraska: For what it's worth, and hopefully it's worth a lot, MAC teams are entering the week 0-12 against teams from Power Five conferences. I don't believe this is the same Huskies program that stunned the Huskers a couple of years ago. Then again, at this point, any favorable result would be, well, favorable. Nebraska 33, Northern Illinois 26.
Southwest Minnesota State at Wayne State: The Wildcats host their home opener under the lights, welcoming the Mustangs in a battle of 0-1 teams from the Northern Sun Conference. If the Wildcats can cut down on their turnovers, I like their chances to duplicate last year's result. Wayne State 23, SMSU 14.
No. 19 Iowa at Iowa State: One team playing in this game wears red. The other is that other team in that state across the Missouri River. You can probably figure out which way I'm going with this one. Never mind what has happened the first two weeks of the season. Iowa State 24, Iowa 23.
Kansas City at Oakland: I started this column by addressing the Huskers and their "heartbreaking, expletive-inducing" finishes, but the Chiefs have found a way to do that, and then some, to their fans in the postseason. This is the regular season, however. Kansas City 38, Oakland 23.
Cleveland at New York Jets: Look, I know the Browns got beat by 30 points in their season opener, but I still believe in what that team is doing. This could be a better game than people might think. Cleveland 24, New York 20.